Aussies in bust-up over Cup
Robert Allenby and Geoff Ogilvy were involved in a heated row after the Australian PGA Championship on Sunday.
Last Updated: 29/11/11 8:50am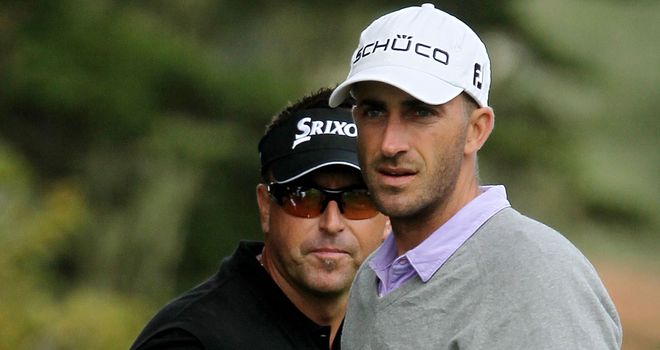 Robert Allenby and Geoff Ogilvy were involved in a heated row after the Australian PGA Championship on Sunday.
According to the Herald Sun newspaper, witnesses claimed that the pair exchanged angry words during the tournament's afterparty at the Hyatt Coolum resort, with some reports even having Allenby approaching Ogilvy and offering to settle it physically. Ogilvy declined.
The flashpoint came in the wake of a simmering feud started at the previous week's Presidents Cup.
Allenby lost all four of his matches in the 19-15 defeat to the Americans and said he had been hurt by public criticism of his performance.
In defence, Allenby made digs at Ogilvy, Retief Goosen and YE Yang - his playing partners at Royal Melbourne - for playing shots that "left him in the s**t.
"People look and say how disappointing can you be, because you didn't get a point, but when you're relying on someone else as well, it's sometimes not all just you," Allenby said.
He then claimed that Ogilvy "hit me in the trees three times off the tee and I had to chip out three times" in the Saturday foursomes.
Yang was the first to express disappointment at Allenby's comments, saying he "thought we were good teammates and being in a team environment, there is no one who played bad or good."
But what really appeared to irk Allenby, who went on to finish runner-up in the Aussie PGA at Coolum, was a tweet from Ogilvy on Saturday, saying: "Warms the heart to see Robert playing so well this week."
Allenby, 40, took it as blatant sarcasm and it's understood that was the reason he approached his fellow Aussie.
There were reports of a smashed glass at the table where the conversation took place, but witnesses said it was accidental and not a result of a physical clash between the pair.
Play down the incident
There was no immediate comment from either golfer but Ogilvy's manager, Paul Galli, was quick to play down the incident.
Speaking in Melbourne newspaper, The Age, he said: ''Look, it wasn't TV Ringside or anything.
''I wasn't there, but from what I've been told, it's a storm in a teacup. There were a few words spoken. They will be fine. I've got no doubt they can come together at the (Australian) Masters in a few weeks, have a beer and move on.'
Galli did confirm what had sparked the exchange.
''It goes back to what Robert said. Geoff didn't like being blamed by a teammate. But he didn't want to be part of the discussion (after Allenby approached him at the Coolum afterparty) and he doesn't want it to go any further. Let's focus on three great weeks for Australian golf.''
Allenby's manager Tony Bouffler added: "It was just two guys who'd had a few tough weeks letting off some steam and getting some things off their chest.
"It appears from what I've heard things may have been blown out of proportion. They're good mates and they're still good mates."