Foster has watching brief
Injured caddie Billy Foster will have to make do with watching Lee Westwood's progress at the Open this week on TV.
Last Updated: 17/07/12 11:25am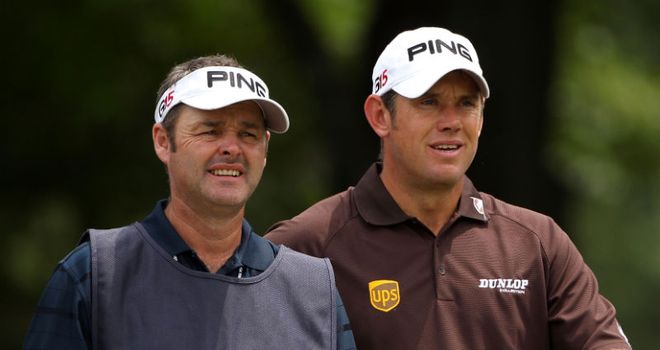 Injured caddie Billy Foster will have to make do with watching Lee Westwood's progress at the Open this week on TV.
Foster has been out for the past two months because of torn knee ligaments and is pessimistic about his chances of making it back in time for the Ryder Cup.
If Westwood has a chance of winning at Royal Lytham on Sunday, though, Foster is sure he will be making the trip across the Pennines and will probably throw his crutches in the air in delight if the 39-year-old becomes Open champion.
"It's gut-wrenching not being at the Open, especially working with one of the best in the world," said Foster.
Solitary confinement
"It's been like solitary confinement - there's only so many times you can watch Sky Sports News.
"But I'll be watching this week. Lee's a fantastic player and if he does it he'll certainly have deserved it."
Foster, whose injury came in America during a soccer kickabout before a tournament, was with Westwood when he came so close at Turnberry in 2009 and then again at Augusta the following April.
Foster added: "He could and perhaps should have won both."
In Scotland he held a two-stroke lead during the final round, but bogeyed three of the last four holes and his three-putt five on the last resulted in him losing by one when 59-year-old Tom Watson also bogeyed it to fall into a play-off with Stewart Cink.
"He played great that week. On 15 he got unlucky when his tee shot was right at the flag, but landed on the little knoll and went through into the back bunker.
"On 16 we were between clubs and then on the last he pulled the tee shot about 20 yards and it ran and ran before trickling into that bunker.
"He pulled off a miraculous shot to get it on the green from there - a nine-iron from 180 yards if I remember right - and as he was one behind he felt he had to give the putt a chance."
"At the Masters he had a five-shot lead in the third round and then (Phil) Mickelson eagled the 13th and holed his second shot to the next for another.
Setback
"On the final day Mickelson made some incredible escapes from the trees around the turn - that shot on 13 from off the pine straw was just fantastic. Lee did everything right and got it taken away from him."
Foster has suffered a recent setback in his recovery when his knee started swelling up again.
"I'm struggling really - it's not good. I've probably overdone it in the pool."
For the meantime Westwood continues with New Zealander Mike "Sponge" Waite, who has already helped him win in Sweden.
Foster has not ruled out returning for the match against the Americans in late September, but it is looking like a race against time.