Monty: Lee needs fast start
Colin Montgomerie believes the first day of this week's Open Championship at Royal Lytham will be crucial to Lee Westwood's chances.
Last Updated: 17/07/12 5:00pm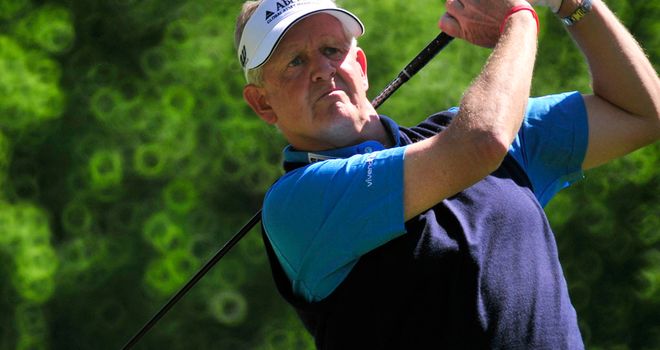 Colin Montgomerie believes the first day of this week's Open Championship at Royal Lytham will be crucial to Lee Westwood's chances of winning a first major championship.
The 39-year-old Worksop golfer has come closer than anyone to winning one of the big four tournaments without actually doing so in the last few years, recording seven top-three finishes in his last 16 outings.
Montgomerie knows a thing or two about near-misses, having had five runners-up places and one third in 71 majors.
And having watched Westwood force his way into contention with some battling performances he wants his former Ryder Cup team-mate to lead from the front.
"He started the US Open (last month) with a double bogey and he must have thought 'What the hell?'," said the Scot.
"He did awfully well to get into contention at all (eventually finishing joint 10th after losing a ball up a tree in his final round).
"At least he won't start with a double here because it's a par three so he will get a better start than he did at the US Open.
"The trouble Lee has had is he hasn't managed to get that lead so the Thursday round is most important for him to get into contention early and then he can fight through.
"What he is [often] trying to do is come back into contention and it is very difficult because the standard is so high and the guys ahead of him are less fearful than they used to be and they don't back off like they used.
"It is more difficult to come from behind that way than it used to be, now you have to be there to start with.
"Thursday's round is most important for Lee, especially him out of the group I'm talking about."
Montgomerie found himself seated next to Westwood on the flight home from the US Open at the Olympic Club in California.
They discussed their relevant experiences and Montgomerie, who failed to qualify for this year's Open by a single stroke, offered some encouragement.
"I just said to him 'Keep knocking on the door'," he added.
"It is ajar but not open but one day it will open, as long as you keep trying, and when it does it will mean even more than if he had won when he was 25 years old.
Delighted
"We will all be delighted if that happens because he was a real nemesis of mine over the years and he was the one who took my (European number one) crown in 2000 after seven years.
"I have always had great respect for Lee and he should have won one by now."
Westwood, the world number three, is among a relatively small group of players who can win the Claret Jug at Lytham this week according to Montgomerie, who led the Open the first two days the last time the tournament was held on this course in 2001.
"The last three winners here have all been number one in the world at the time. Is Luke Donald driving the ball well enough to become the fourth? We will have to wait to find out.
"If you look at the top 10 in the world and who is in the Ryder Cup teams currently and generally there is your winner - a lot of them overlap so there are only 20 players in that group.
"As a British interest I would favour a Westwood-style of player here as the greens are flatter than most so it takes away his nemesis which is his putting, the reason he hasn't won a major yet.
"I think Justin Rose will do well here, he's very confident, and I think Paul Lawrie will do well as he is playing the golf of his life and holing out well.
"Those three will definitely contend. Tiger (Woods) has the power to not to have to need a driver while Luke Donald has to use a driver - there is a big difference.
"He (Woods) will contend I'm sure along with the possibly the likes of Jim Furyk who contended well at the US Open."