Donald feeling inspired
Luke Donald will challenge for his maiden major title at Kiawah Island having been inspired by Great Britain's success at the Olympics.
Last Updated: 07/08/12 7:28pm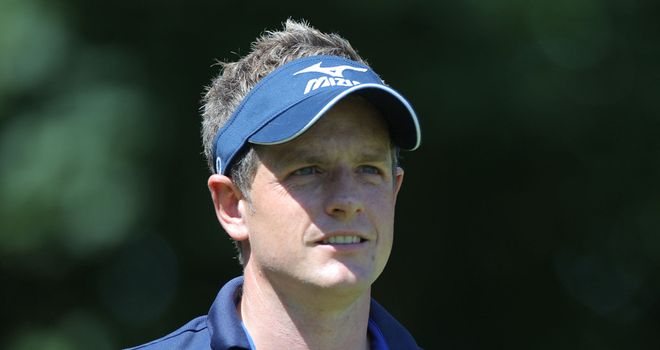 World number one Luke Donald will challenge for his maiden major title at Kiawah Island having been inspired and motivated by Great Britain's success at the Olympics.
The Englishman will look to land one of golf's four biggest titles at the 38th time of asking when the USPGA Championship gets under way in South Carolina on Thursday.
Donald watched Andy Murray beat Roger Federer during a rain delay in Akron on Sunday and has tried to capture as much of the Olympic action as possible, although much of it is been shown delayed on American television.
"It's good to know hard work pays off - I've always tried to think in those terms," he said.
Opportunity
"That takes the edge off when you know who's going to win, but I think Mo Farah's last lap was pretty special and obviously Jessica Ennis, living up to the expectation that was put on her shoulders.
"She was kind of the poster child for the Olympic Games.
"They're all inspiring in their own way. The fact that you have one event every four years to really work hard, to see some of the guys who don't perform and to see some of the guys that perform and win gold, I mean, there's a lot of raw emotions there.
"And watching certainly has inspired me a lot in terms of having that wish to be there in four years, to have an opportunity to also win a gold medal."
Golf will be back as part of the Games in Rio de Janeiro after a gap of more than 100 years, and to be there Donald will either have to be in the world's top 15 still or one of Britain's top-two players.
The final major of the season inevitably flies under the radar this week as the Olympics continue, but that will not make victory taste any less sweet for the 34-year-old, who saw his fifth-placed finish in The Open three weeks ago as something of a breakthrough.
It was not where he came, but more how he felt that Donald takes heart from - especially after the bitter disappointment of missing the halfway cut at the US Open in June.
Focus
"Coming off the US Open I was very disappointed how I kind of handled the situation mentally," Donald said.
"I didn't come in hitting the ball that great and maybe that added to some of the anxiety.
"But certainly I think there was a little bit of a breakthrough, just realising at the Open Championship that no matter how I'm hitting it physically there's always a way to mentally be on top.
"I did that very well and as a result I also played pretty well."
The last 16 majors have been won by 16 different players - Ernie Els was the latest to joint the list at Royal Lytham - and Donald hopes he can be the one to take it to 17.
"I guess the longer the streak goes, the more encouragement it gives to those guys who haven't yet won a major, like myself. But I'm not sure if it changes anything for me.
"I continue to focus on what I can do and hopefully give myself a chance on Sunday."