Sergio Garcia delighted to be back in Europe's Ryder Cup team
Sergio Garcia has admitted thoughts of helping Europe to Ryder Cup glory hampered his form at the Tour Championship.
Last Updated: 26/09/12 4:29pm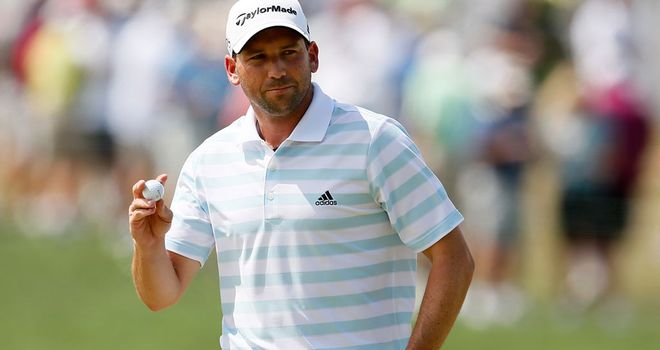 The 32-year-old, who failed to make the European team in 2010 but worked as one of Colin Montgomerie's assistants, finished joint 15th in the final event before the tournament.
And with his level of excitement at being back playing in the Ryder Cup in Chicago "probably a 12" out of 10, Garcia claims he perhaps lost his focus at Tour Championship.
"I had so many things in my head right now - I was probably thinking too much about the Ryder Cup," he said.
"I played every round with one of the American team and couldn't stop myself thinking: 'Right, I'm one up now' or whatever.
"I've always enjoyed the match and I just hope my game gets back to where it was. Hopefully I'll get some nice practice in and get going.
"I want to play as well as I can to help my team, although I've always said that I'd rather lose all my five games and Europe wins than win all five and we lose."
Sick
It is four years since Garcia last played for Europe and that ended not only in an American victory, but also him losing the top singles 5&4 to an inspired Anthony Kim.
He did not win a game during the week and was even left out of the second day foursomes - like Lee Westwood the first time he had ever been omitted from a session.
Westwood has since had things to say about captain Nick Faldo's decision then, but Garcia recalls: "I asked to be dropped - the week before I was sick all week and was on antibiotics.
"I didn't have enough energy and said to the captain and vice-captains that I'd love to keep going, but I don't feel like I should and hopefully somebody else will be able to do a better job."
His overall record is still a fine one - 14 wins and four halves in 24 games - and he has gone nine foursomes unbeaten, four of them with Luke Donald.
What European captain Jose Maria Olazabal had planned for him was probably going to become a little clearer today as the countdown to the match intensifies.