United States captain Davis Love is not concerned about the poor records of his top players
United States captain Davis Love said he was inclined to ignore the poor records of his most experienced players.
Last Updated: 25/09/12 11:51pm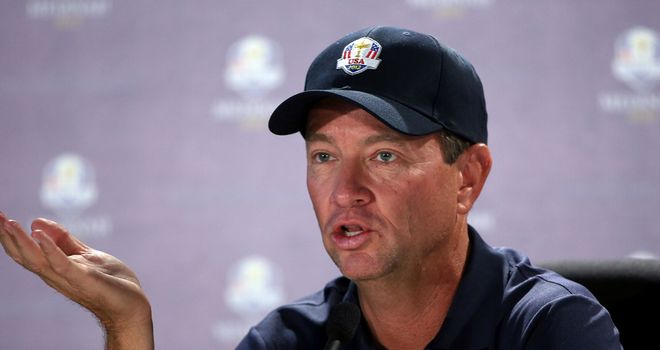 Tiger Woods, Phil Mickelson and wildcard pick Jim Furyk all have surprisingly disappointing Ryder Cup stats.
But Love said attaining a better than 50 percent win ratio over the years is not easy in matchplay format.
"You look at a lot of our great players, they don't have great Ryder Cup records," he said.
"I think if you're even, if you're .500 in Ryder Cup, you're pretty dang good. If you're above .500, like Seve and Jose, you've had an incredible run.
"Matchplay is just so different that I kind of throw the Jim Furyk or the Phil Mickelson or Tiger Woods record of wins and losses out. You just ask them, what do you like better, alternate-shot or best-ball, or who do you want to play with?
"I know I messed Tiger up a couple times, so I'm part of his problem!"
Strategy
Love added he would not be targeting certain players on the European team by attempting to second-guess who would be playing in which group.
"They have a lot of good players," he said. "I think the best strategy for me is to put our best teams out there and not really worry.
"In this format it's hard to target a guy. You don't know who is going to be their hot team.
"Certainly in my Ryder Cup history we have run up against some guys that you didn't expect were going to be hot.
"Monty (Colin Montgomerie) would come in not playing well and he would play great every time. You just never know.
"I'm not aiming at guys. It's hard to play that game."