Ollie - Time to step up
Jose Maria Olazabal has admitted that his team must play better golf if they are to change the momentum of the 39th Ryder Cup.
Last Updated: 29/09/12 9:11am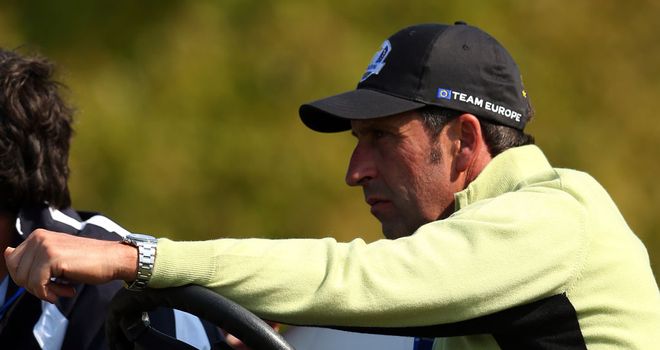 Europe captain Jose Maria Olazabal has admitted that his team must play better golf if they are to change the momentum of the 39th Ryder Cup.
The Spaniard made the rallying call after his players ended the first day of competition at Chicago's Medinah course trailing 5-3.
The match was tied at 2-2 after the Friday morning foursomes but Europe began to lose touch as they dropped points in the first three fourballs encounters.
Rookie Nicolas Colsaerts arrested that slide by hitting eight birdies and an eagle in a stunning debut round to secure a one-hole win for him and Lee Westwood over Tiger Woods and Steve Stricker.
Olazabal said: "I'm going to make it clear to the boys that they need to step it up. They need to play better golf, simple as that.
"There are no secrets about this game. You have to make more birdies than your opponent and if you don't do that, you're going to struggle. We do have to change the momentum."
Praise
Olazabal will attempt to do that by sending out Justin Rose and Ian Poulter, Friday morning victors over Woods and Stricker, first against Webb Simpson and Bubba Watson.
Poulter carded four birdies in his first outing to take his overall Ryder Cup record to nine wins and three losses but sat out the second session.
Olazabal said: "I wanted to have every player play during the first day and obviously in order to do that, you have to drop some of those players that have played in the morning.
"At the same time, this is a long week. I don't want my top players worn before Sunday."
Luke Donald will return alongside Lee Westwood to face Keegan Bradley and Phil Mickelson, twice winners on Friday, before Colsaerts partners Sergio Garcia against Jason Dufner and Zach Johnson.
Olazabal was full of praise for the performance of long-hitting Belgian Colsaerts, who went a long way to justifying his wild card selection.
He said: "If the information that I got was correct, I think it's been the best scoring for a rookie in the history of the Ryder Cup.
"So it was quite an impressive performance, and it was a huge point for us.
"The way the session went, losing the first three matches, to win that last point, it made a big difference for the afternoon."
The foursomes will be completed as Rory McIlroy and Graeme McDowell take on Jim Furyk and Brandt Snedeker in a repeat of the competition's first match, which the Northern Irishmen won by a hole.
Meanwhile, Olazabal said he was unaware of reports that some of his players' wives had been heckled by the crowd.
He said: "I would have to talk to the wives and ladies of the team if that was the case, but I have not I don't have that information with me."