Bradley managing to keep his emotions in check after claiming three wins out of three with Mickelson
Keegan Bradley admitted he is struggling to contain his excitement on his sparkling Ryder Cup debut.
Last Updated: 29/09/12 9:05pm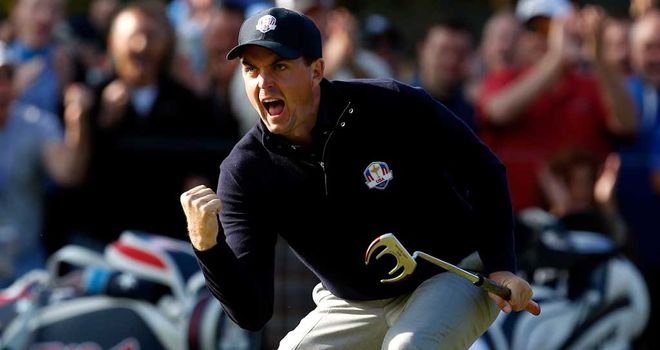 The 26-year-old continued to shine on his debut as the in-form American pair stormed to a crushing 7&6 victory over Luke Donald and Lee Westwood in Saturday morning's foursomes.
US skipper Davis Love decided to rest Bradley and Mickelson for the afternoon fourballs, giving the rookie time to reflect on his remarkable two days.
"I'm just thrilled I get to share this with Phil and play the way we did," he said. "Phil gave me a pep talk early in the round, saying we need to come out hot against these two great players. We were lucky enough to do that.
"It's not very hard to get excited out there when you walk out onto that first tee and the crowd is going crazy. It's just an unbelievable event, an unbelievable experience as a player and as a fan.
"I'm putting so much emotion into my rounds that it's probably a good thing that I'll be rested up for the singles.
"In my career I have had big moments where I've showed my emotion, but it's just very relaxing to know that I have a Hall of Fame partner that knows how to get it up and in from anywhere.
"The most emotional week for me was winning the PGA Championship and having my life change overnight, but this is a different type of emotion.
"I watched Bubba Watson tee off, he got the crowd going and I couldn't contain myself. I was just so excited and so proud of him.
"Phil wants me to get fired up and to get the crowd excited - and get him excited. There's been a few times where out caddies have reminded us it's time to calm down.
"I think Chicago should be very proud of the way the fans have acted. There hasn't been much unsportsmanlike conduct. I think they've done a great job. It's obviously a huge advantage to be in front of your home crowd."