World No 1 arrives at Medinah just 10 minutes before teeing off against Keegan Bradley
Rory McIlroy came within 10 minutes of missing his tee time in bizarre scenes on the final day of the Ryder Cup.
Last Updated: 01/10/12 6:51am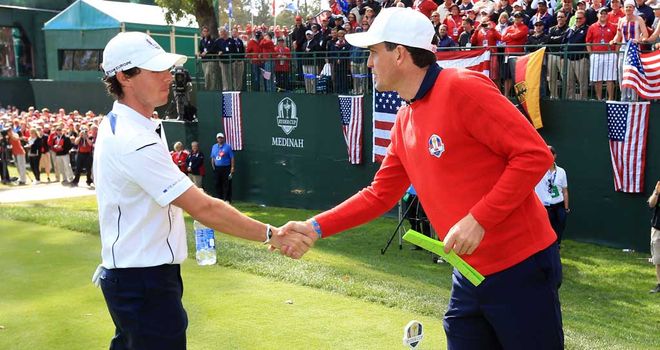 The world No 1 was scheduled to face Keegan Bradley in the third singles at 11.25am local time, but he was rushed to the course in an unmarked police car and arrived at 11.15am.
After a brief warm-up, he made it to the first tee on time to take on the unbeaten rookie, who won all three of his matches alongside Phil Mickelson over the first two days.
McIlroy was confused by the time zones in the United States, with listings indicating his tee time was 12.25 EST.
But Chicago is in the central time zone and one hour behind, which led to the Northern Irishman leaving his hotel well behind schedule.
"We did not have that in mind," said European captain Jose Maria Olazabal. "All of a sudden we realised Rory was not here and started to look for him.
"Finally we got hold of him and he came in with a police escort."
An embarrassed McIlroy added: "I was just casually strolling out of my hotel room when I got a phone call saying you have 25 minutes. I have never been so worried driving to the course.
"Luckily there was a State Trooper outside who gave me the escort, if not I would not have made it on time.
"I read the tee times on my phone, and they are obviously on Eastern time and it's Central time here."