Dustin Johnson defends USA Ryder Cup captain Davis Love
Dustin Johnson insists American captain Davis Love did everything right despite suffering Ryder Cup defeat.
Last Updated: 02/10/12 3:07pm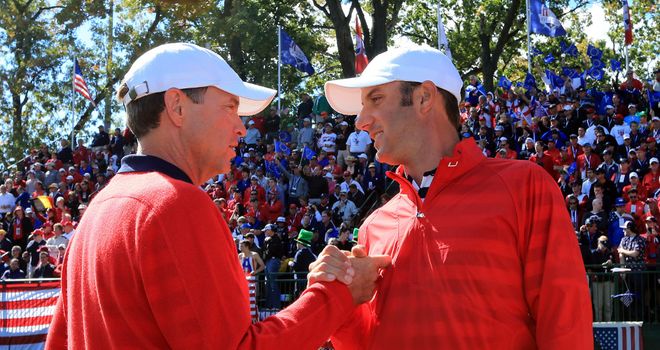 As the Europeans celebrated long into the night in Chicago, the post mortem was already underway for the hosts after they blew a 10-6 lead in Sunday's singles to eventually lose out 14½-13½.
Love's captaincy has been one of the big talking points, but Johnson insists that he was a fine captain and does not think he could have done anything more to secure the Ryder Cup.
The big-hitting Johnson was one of the successful ones in Chicago, winning all three of his matches, and although he enjoyed the week he admits defeat has been a bitter pill to swallow.
"It definitely sucks to lose," Johnson told Sky Sports News. "But we had a great week, it was great for TV and what a match is was. The Europeans just outplayed us on Sunday.
"I had a great week and had a lot of fun, we went out there as a team and we lost as a team, and hopefully we'll get them next time at Gleneagles.
"All the veterans and captain, they sat down and they made the order. We had a 10-6 lead going into Sunday and I think everything we did I felt was right.
"Captain Love did a great job, it was a lot of fun playing for him and I just hope that I'm in the team in two years at Gleneagles."