When it comes to the Ryder Cup, Ian Poulter reminds Jose Maria Olazabal of the late, great Seve Ballesteros
Jose Maria Olazabal compared Ian Poulter's Ryder Cup heroics at Medinah to those of the late Seve Ballesteros.
Last Updated: 03/10/12 3:16pm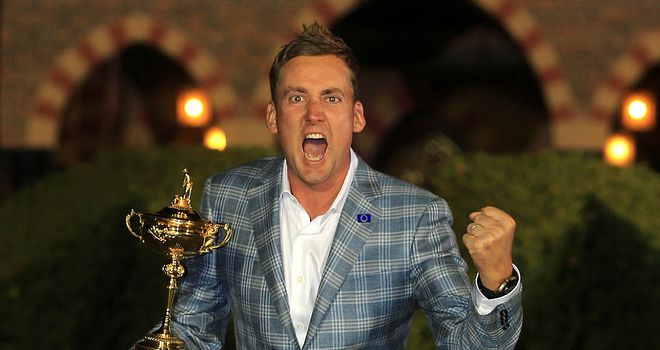 Poulter was one of Olazabal's two wildcard choices and repaid the faith shown in him by remaining unbeaten over the course of the weekend, as Europe staged a remarkable comeback from 10-4 down to beat the United States on a thrilling final day.
Spaniard Ballesteros, who died in May 2011 following a brain tumour, was part of eight successful Ryder Cup teams and a close friend of Olazabal, who believes Englishman Poulter has a similar affinity with the competition. Poulter's record from four appearances stands at an incredible 11-3
Olazabal said: "For whatever reason this event for him means so much, he thrives in it and I think it brings the best of him on the golf course.
"That is why he managed to do what he did on the Saturday afternoon, it was just amazing. In a way he reminds me a bit of Seve in that regard, that intensity, that focus, that will to win the point is very close to Seve."
Poulter birdied the last five holes of his four-ball match with Rory McIlroy against Jason Dufner and Zach Johnson to earn a vital point on Saturday evening.
Favourite
Olazabal selected the 36-year-old's birdie putt on the 18th which clinched victory in that match as his favourite moment of the tournament.
"The putt Poulter made at the 18th on Saturday was huge. If that didn't happen we wouldn't have had a chance going into the final day," he said.
"I was pretty much 99 per cent confident that the ball will go in the hole."
The European team wore navy and white in a tribute to the late Ballesteros, who captained the team to Ryder Cup glory in 1997, and Olazabal feels Poulter could achieve the same feat in the future.
"Well if he is the captain that is obviously a great thing," he said. "He will bring the passion of the Ryder Cup, but he will need another 12 players like him and that is hard to find. Obviously he will be a wonderful captain for sure."