Davis Love keen to get back in the swing after his Ryder Cup heartbreak at Medinah
Davis Love is determined to get over his Ryder Cup devastation and get back to playing on the PGA Tour.
Last Updated: 03/10/12 4:26pm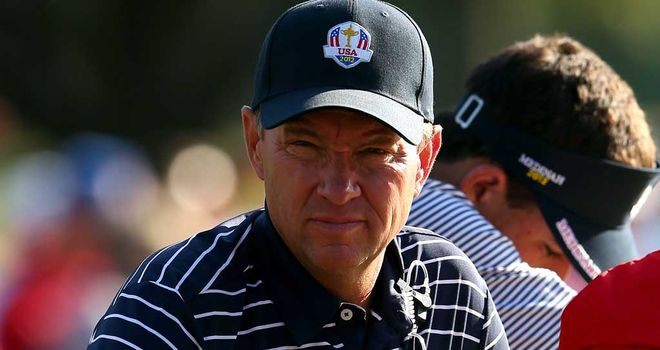 The 48-year-old is preparing to tee up in this week's Justin Timberlake Shriners Hospitals for Children Open in Las Vegas as he deals with the pain of the USA's remarkable defeat to Europe at Medinah.
He admitted he was still "stunned" by the dramatic events of Sunday's singles, when Europe turned a four-point deficit into a one-point victory to retain the trophy.
"I wanted to get back to playing golf, no matter what happened Sunday," said Love. "I had committed that I needed to get back to my own game and it would be good for me either way.
"My heart hurts for the players. Sunday was not good and Monday was, I think, hard for a lot of them. I think we're just sad it's over. Obviously we're stunned by the loss."
Love's players dominated the first two days in Chicago, but he admitted they buckled under pressure after as Europe mounted their astonishing fightback.
"We knew if it got close they were going to put too much pressure on themselves," he added. "We might have played better Sunday tied rather than trying to protect the lead. They fought hard and played great the first two days, then just had kind of an off day."
Love defended his decision to select Brandt Snedeker, Steve Stricker and Jim Furyk as three of his four wild cards alongside Tiger Woods despite none of them winning their singles.
"Steve Stricker is the number 10 player in the world. It's not like we took a chance on a guy," Love said. "We didn't really take a chance with FedEx Cup champions.
"Obviously Brandt played good after we picked him, but he was playing well before. We just went with what we thought was best."