Paul Lawrie reveals partisan nature of US fans at Ryder Cup match in Chicago
Paul Lawrie said members of Europe's team were subjected to a torrent of negative comments by home fans at the Ryder Cup
Last Updated: 03/10/12 7:22pm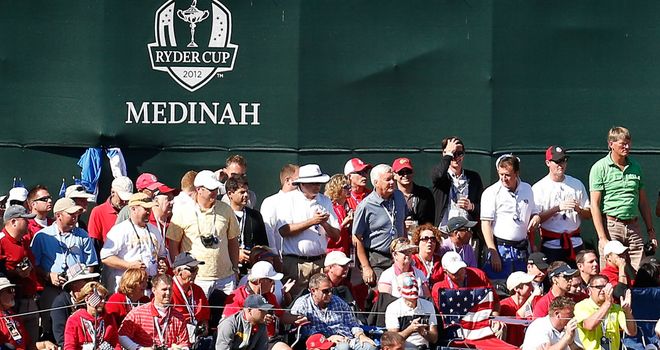 The Scotsman was part of the victorious European side that recovered from 10-6 behind at the start of the final day, to register a remarkable 14.5 - 13.5 comeback triumph.
Speaking ahead of this week's Dunhill Links Championship in Scotland, he said the partisan home fans were certainly vocal and over-enthusiastic in their support for the United States team: "You get 'top it, shank it, you're a loser', stuff like that, every shot you play.
"Every single shot you hit last week, that's what you get just before you go and hit it.
"That was the same the last time I played (in Boston in 1999) and I think a few of the players had a bit more than that.
"We spoke about it at a lot of the team meetings at the start of the week.
"It's pretty tough when someone is screaming and blowing in your ear that you're 'a loser', but there's not much you can do.
"It makes it all the more satisfying on Sunday night when you're standing there with the Ryder Cup in front of you and they are not. I think it helps us, to be fair."