Tournament host KJ Choi records sixth Asian Tour victory with two-shot win in CJ Invitational in South Korea
Tournament host KJ Choi fired a four-under 67 to score a two-shot win in the CJ Invitational in South Korea.
Last Updated: 07/10/12 4:30pm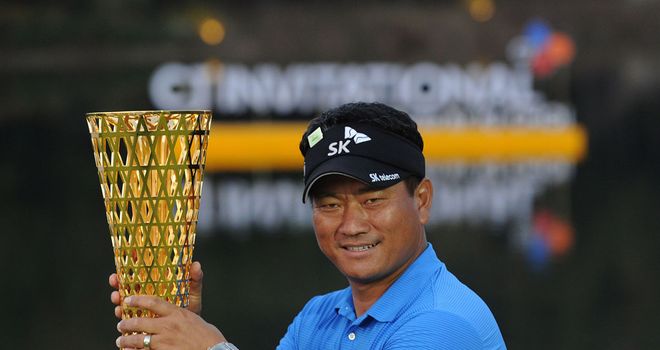 Choi walked away with the title for the second consecutive year with a winning total of 15-under-par 269.
Korea's Bae Sang-moon, who was piling the pressure on Choi until a bogey-six on the 14th hole dented his confidence, had to settle for a share of second place with compatriot Jang Dong-kyu on 271.
Korea's Kim Dae-hyun, who shared the third round lead with Choi, signed for a 71 to take fourth place while Australia's Scott Hend and seven-time Asian Tour winner, Charlie Wi of Korea took a share of fifth place after they closed with matching 70s for a 274 total.
Thailand's Chinnarat Phadungsil's putting touch deserted him on the final day and he finished in seventh place, six shots back of Choi.
"I've always said that this tournament is all about giving back to the community and that's what I'm going to do with my winnings," said Choi, who donated his US$118,875 winner's cheque to his KJ Choi Foundation
"I'll never be where I'm today if not for golf and the great support from everyone."
The US$750,000 event is jointly sanctioned by the Asian Tour and Korean Golf Tour.
After heavy fog had caused much delay to play over the last two days, Choi had to return in the morning to complete his remaining nine holes for his third round.
The Asian Tour honorary member was still trying to find the rhythm in his game as he marked his inward-nine with one bogey and one birdie.
"I was starting to warm up when I came back in the morning to complete my third round. But once I got through those nine holes, three key elements came back into my game - see, feel and trust," said Choi.
After taking a 15-minute break between rounds, Choi came out strongly with two birdies in his opening four holes.
He dropped a shot on the ninth but responded with a hat-trick of birdies from the 11th.
Choi then parred in to seal his sixth Asian Tour victory.
"I could see, feel and trust every aspect of my ball striking as well as putting and from then on, I was really confident that I would go on and win," said Choi.