Rory McIlroy looking forward to Tiger Woods clash in Turkey following Ryder Cup celebrations
Rory McIlroy revealed he has not touched a club since the Ryder Cup finished in such dramatic fashion at Medinah.
Last Updated: 09/10/12 8:13am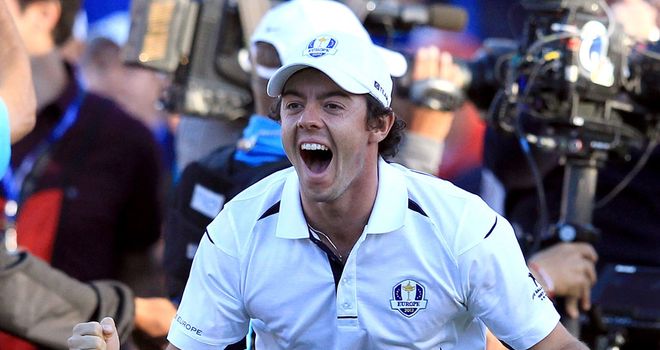 The world number one will take part in the exclusive eight-man Turkish Airlines World Golf Final this week and faces Tiger Woods in the medal match play event on Wednesday.
However, he gets underway with a match against Matt Kuchar on Tuesday, his first outing since beating Keegan Bradley in the Ryder Cup singles - despite his much-publicised late arrival due to a time-zone mix-up.
"The majority of the players this week played in the Ryder Cup and it was very nice to be part of that winning side," McIlroy said. "I'm still trying to come down from the high of it.
"Sunday was a great night, although we were all still in disbelief that we had pulled it off. I watched Justin (Rose) hole his winning putt on 18 against Phil Mickelson with Ian Poulter and we both said at the same time 'We could do this."'
Praise for Poulter
Europe recovered from 10-6 down on the final day at Medinah, winning the first five singles matches and eventually eight of the 12 with one half, but McIlroy added: "The most important part of the Ryder Cup was winning the last two fourballs on Saturday afternoon, Luke (Donald) and Sergio (Garcia) before us and then what Poulter did the last five holes.
"I have experienced it before when you feel like you are in the zone but to see someone doing it under that pressure is very, very impressive. His caddie said 'Why can't he do that in normal tournaments too?' but Poults is Mr Ryder Cup."
As for the prospect of facing Woods this week, McIlroy added: "It's something I am looking forward to. Tiger has been a hero of mine growing up so to compete against him is a dream come true. This will be the first match we have had head-to-head and it's a match I would really like to win."
He continued: "It's a bit different to the Ryder Cup because it's medal match play and it will be a bit more relaxed than the final day of a major, but I think we will both be trying to beat each other.
"I haven't touched a club since the Ryder Cup so I am going to get to the course a little early tomorrow to hit a few balls and see if it's still there. And I will make sure I am in the right time zone!"