Ryder Cup legend Bernard Gallacher backs Ian Poulter to claim major victory at The Open
Bernard Gallacher was amazed with Ian Poulter's Ryder Cup display, and hopes it can help him to go on and claim a major.
Last Updated: 17/10/12 11:12pm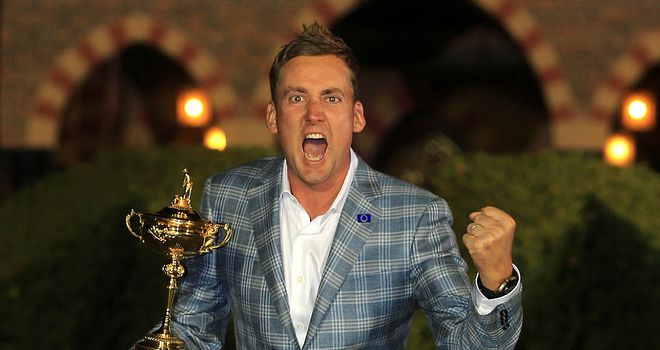 The three-time European captain witnessed Poulter's display at first hand and thought his magical putt on the Saturday night, as he grabbed a vital point alongside Rory McIlroy, was the catalyst for that Sunday comeback from Jose Maria Olazabal's men.
Not just the passion but the quality of Poulter's play has raised the obvious question of his major chances, or whether team golf will just be his own version of major glory.
Gallacher does see a major triumph in Poulter's future, after being amazed by his Medinah showing in dragging Europe back from the brink and on to such a glorious victory.
"He was the catalyst for that fightback, no question," said Gallacher. "When he holed that putt on Saturday night that gave us hope, I thought it'd just give us an outside chance but Poulter thought otherwise.
"That was one of the bravest putts I've ever seen in the Ryder Cup."
Gallacher says Poulter deserves a major victory on his CV, but his lack of length off the tee could hold him back - although the one thing that is not in question is his ability to follow through and claim that victory should the chance present itself.
He said: "Ian Poulter is a great player, very confident, but the thing that holds him back is probably his striking from tee to green, he's not a power player and a lot of the power players at the moment are winning all the tournaments, so I hope it doesn't hold him back.
"But I do know that given a chance that Adam Scott for instance had this year with a four shot-lead there's no question in my mind that Ian Poulter would win, he just needs to get himself into position.
"When you compare him with Rory McIlroy, Rory's weapon is his driver, he bombs it so long and so straight off the tee it just makes the golf courses easy, Ian Poulter doesn't have that in his game.
"Poulter will be hitting hybrids into greens where McIlroy could have something as short as a seven iron, and when you're playing in tough majors where they're hiding pins away then you'd rather be going with seven irons than hybrids.
"I think if he's going to win a major it'll be our Open, that's what I do think he'll win so next year at Muirfield maybe things will turn for Ian Poulter - I hope so as he deserves it."
Bernard Gallacher is an ambassador for Golf Care, the UK's #1 golf insurer - www.golfcare.co.uk