WGC-HSBC Champions: Disappointment over absence of Rory McIlroy and Tiger Woods
The sponsor of this week's WGC-HSBC Champions event in China has criticised absentees Rory McIlory and Tiger Woods.
Last Updated: 31/10/12 12:31pm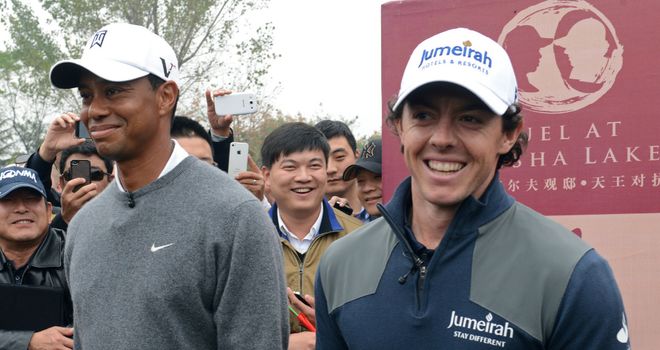 The pair played in a lucrative head-to-head exhibition match on Monday at Jinsha Lake in China.
McIlroy is now in Bulgaria watching his tennis-playing girlfriend Caroline Wozniacki competing while second-ranked Woods moved on to Singapore to fulfill corporate engagements.
"On the one hand we have by far and away the strongest field in Asia this year, 13 of the top 20 are here. But of course we are disappointed the top two are not here," said HSBC's worldwide head of sponsorship Giles Morgan.
"We are looking at a true world golf championship. As a sponsor we can provide the prize money and all of the wonderful facilities for spectators, customers, the media etc. But the one thing you need of course is the players.
"We believe very strongly in supporting golf around the world at all levels because we believe the sport has great potential to grow. But in order to showcase itself particularly in emerging markets for golf such as China we feel as many of the top players should be here."
Morgan said that with so many sporting sponsors suffering during the recession, golfers should be wary of upsetting them.
"Without the sponsors there isn't professional golf and I speak on behalf of the industry," he added. "Here in China we have built something very big, very quickly so we need to continue to try to invest and encourage people to play.
"I feel very strongly as I know a number of sponsors do, that particularly in a downturn, particularly when there are financial difficulties around the world, that golf cannot be immune."
The $7 million WGC-Champions event starts on Thursday.