Rory McIlroy not feeling 100% at DP World Tour Championship
Rory McIlroy said he suffered what he thinks was a touch of sunstroke at the DP World Tour Championship.
Last Updated: 23/11/12 5:32pm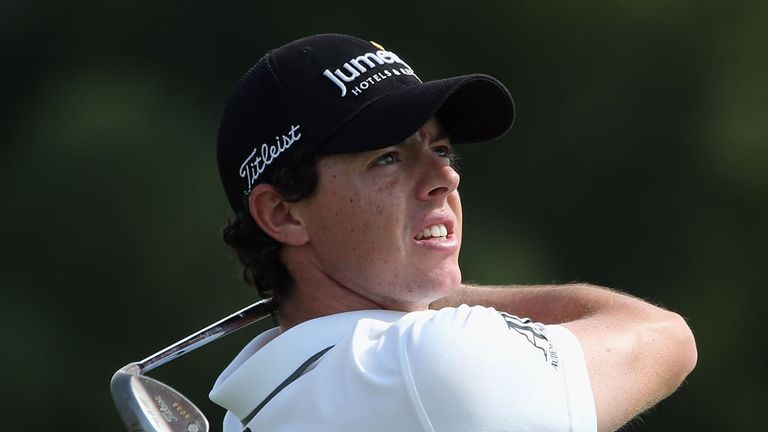 Rory McIlroy overcame what he thinks was a touch of sunstroke to move into a share of the halfway lead at the DP World Tour Championship.
"I got off the course last night and had a really sore head and a fever," said McIlroy after carding a 67 in round two. "I think it was a bit of sunstroke.
"I took a few things and felt better, but I'm not feeling great again. The sun's taking it out of me a little bit but I'll be okay tomorrow."
McIlroy will head into Saturday's third round tied for the lead with world number two Luke Donald and Scotland's Marc Warren after all three posted 11-under at the Earth course.
But he feels there is much more to come.
Talking about his second round 67, he said: "It was okay. I felt like it could have been a little bit better. I had a few opportunities where it could have been 13 or 14 (under par) but I'm in a great position going into the weekend so I can't complain too much.
"I'm driving the ball really, really well. I feel if I can take advantage of that then there could something in the low 60s out there for me."
Paul McGinley, who is doing a stint in the Sky commentary box this week, feels scoring should be tougher given the prestige of the event and McIlroy has some sympathy for that idea.
"I think you have to have a balance. You have to have it playing tough but fair enough that if you hit good shots you're going to get rewarded," said McIlroy.
"Obviously the scoring is very low this week and I think compared to previous years the course is just a little bit more receptive and I think that's why you're seeing so many birdies. I wouldn't mind seeing the scoring a little bit tougher but I'm not complaining."