Rory McIlroy crowns Race To Dubai success with DP World Tour Championship win
Rory McIlroy was thrilled after winning the DP World Tour Championship with five closing birdies.
Last Updated: 25/11/12 4:20pm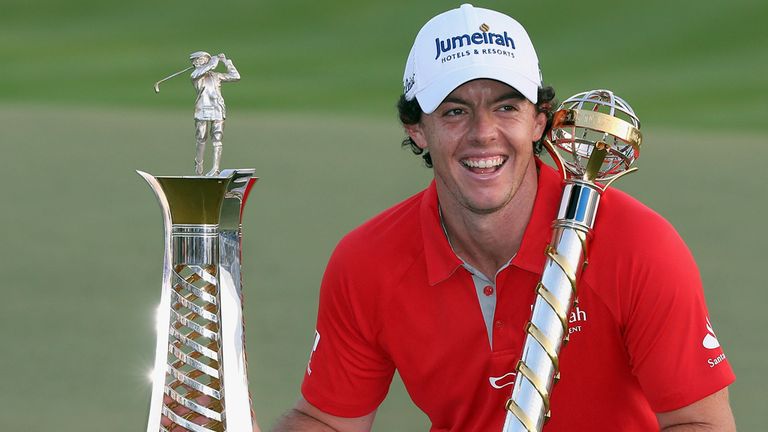 "It's unbelievable," said McIlroy after his late surge swept him past Justin Rose, who had set the clubhouse target of 21-under after a sensational 10-under 62.
"I said at the start of the week I wanted to come here and hold two trophies on the 18th green on Sunday evening and that's what I've managed to do," said the world number one, who had had already secured the Race To Dubai crown after wrapping up the money list title before the week had started.
"I didn't get off to the best of starts today, like the previous three days as well and I saw Justin making a charge up the leaderboard and I heard the cheers and presumed he'd got to 21-under on the last.
"I knew I need to do something special and I kick-started it with birdies on 14 and 15 which are probably the two birdie holes coming in and then birdied 16 and 17 as well to give myself a little bit of a cushion going up the last.
"I couldn't have wished for the season to end any better."
McIlroy said the tee-shot on 17 which finished just six feet away was the most important shot he hit.
"That's probably a hole you don't think is a birdie chance. It's a tough pin today, over 200 yards into the wind and I just hit a great five-iron in there," said McIlroy.
Rose had reached 21-under after an amazing 90 foot putt on 18 which almost stopped at the top of a slope before tricking down to within an inch of the cup.
"I was one roll away from looking like an idiot," said Rose of his perfectly-judged putt. "I actually got goosebumps. I thought it was going to go in for a second."