Tom Watson, American Ryder Cup 2014 captain can get the best from Tiger Woods
Bernard Gallacher says Tom Watson could be the key to getting the best out of Tiger Woods at the 2014 Ryder Cup.
Last Updated: 13/12/12 4:41pm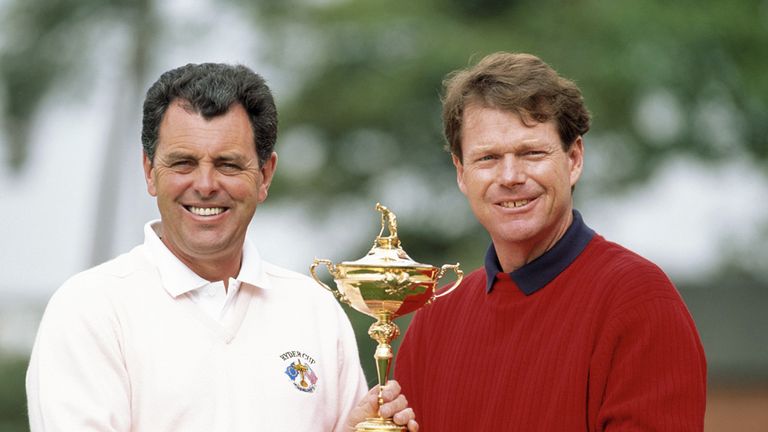 America have been forced to change their thinking and have brought Watson back in the hope of ending their long losing streak in Europe - with the man who captained their last win on European soil.
Watson was captain of the victorious 1993 American team, and his opposite number in that event was three-time European captain Gallacher, who says the selection will be good for the event.
"It's a very clever appointment in my opinion as he knows how to win in Europe and knows how to win in Scotland," Gallacher told Sky Sports. "It looks like it could be a young inexperienced team next time in Scotland so they obviously feel they need an experienced captain to lead them.
"The Ryder Cup has become very important to America, it's an event they want to win. Tom Watson will keep the Ryder Cup on the front of the American press for the next few years so overall he'll be very good for the Ryder Cup."
Watson has been critical of Woods in the past, but Gallacher thinks that his no-nonsense style will help to finally bring the best out of Woods in an event he has yet to play his best in.
"When he criticised Tiger Woods for his behaviour I think Tom Watson said what we all felt," Gallacher added. "Tiger probably respected Tom Watson for that - I think he's the perfect captain to get the best out of Tiger Woods.
"We haven't seen the best of him in the Ryder Cup, he's still the second best player in the world and Tom will face straight up to him and won't be intimidated and Tiger will know that - I think Tom will get the best out of Tiger Woods."
And on who will have the task of taking on living legend Watson for the European side at Gleneagles, Gallacher would go for Paul McGinley.
"I don't think Tom Watson has a bearing on our captain, but I think it's between Paul McGinley and Darren Clarke, and for me Clarke should be trying to get into the team as he's still a great player and it wasn't so long ago he won a major.
European captain
"Obvious he'll be a captain down the line but I think Paul McGinley would be the ideal choice in Scotland, with hopefully Darren in the side, and then probably Darren would be captain in America following that.
"I'm a bit out of touch with the politics about the captaincy but from a stand-back position that's what I think should happen."
Watson will be the oldest Ryder Cup captain in history but Gallacher still feels that he will be in touch with his players, especially as he can still match them at the highest level.
"I can see that recent years captains have been playing on the regular Tour - Watson still plays in our Open Championship and not so long ago he nearly won it.
"The Seniors Tour in America comes up against the main Tour quite a lot over there, Tom Watson is clever enough to make sure he gets to know the players so I wouldn't have any worries that he'd be in touch with the players."