Padraig Harrington says Colin Montgomerie will not return as Ryder Cup skipper
Padraig Harrington thinks it is unlikely that Colin Montgomerie will return for a second stint as Ryder Cup captain.
Last Updated: 04/01/13 5:49pm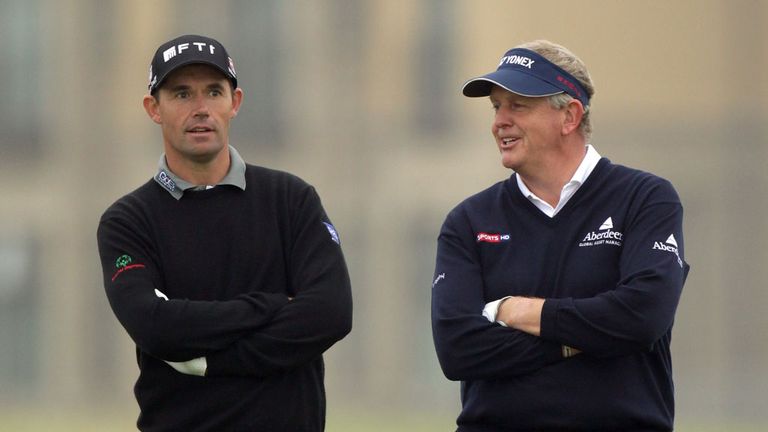 The captain of the European team for the 2014 event will be selected at a players committee meeting during the Abu Dhabi Championship between January 17-20 and Darren Clarke and Paul McGinley are the favourites.
However, following the announcement of golfing legend Tom Watson as the captain of the United States team it has been suggested that Europe may need a captain of similar stature in terms of Ryder Cup achievements.
Montgomerie is one of Europe's all-time great Ryder Cup performers and also captained the team to a dramatic victory in the 2010 event.
Madness
However, asked if his former Cup team-mate might be tempted to lead the side again, Harrington said: "There's not a chance, after what he went through last time, that Colin would ever take the captaincy again.
"He puts so much more on the line than anybody else, it would be madness for him. He's had a great Ryder Cup playing career, he's been a successful captain - why risk all that?
"Most players who take the captaincy, whether they win or lose, it doesn't change people's perception of their overall career, but Monty's career is based on his eight order of merit wins and his Ryder Cup performances.
"By taking the captaincy he's putting far more on the line than anybody else, because it would be hard to mention that he's unbeaten in the singles in the competition but, oh, he's also a losing captain as well. That would take the shine off his great record."
Harrington, a member of six Ryder Cup teams himself, thinks his fellow-Irishman Paul McGinley should take charge at Gleneagles in Scotland in 2014.
"Everybody's talking about it on the European Tour," said Harrington. "My own personal opinion is that McGinley should take it this time and for Clarke to do it in the US.
"I think Darren would be a better captain in America because of his stature over there. McGinley would be a better option to go up against Watson.
"He can't match Watson in terms of his stature in the game - nobody can do that. The only way McGinley would tackle a Ryder Cup is to knuckle down and do his own business and organise things - he would be ideal for Gleneagles."