Durban stat pack
Some key stats ahead of this week's European Tour event - the Volvo Golf Champions in Durban
Last Updated: 09/01/13 3:33pm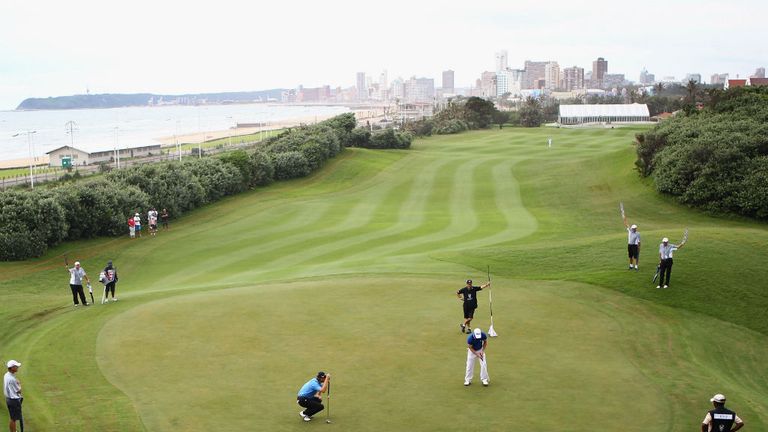 Following a three-week festive break, the European Tour reconvenes in Durban for the first event of the 2013 calendar year.
The Volvo Golf Champions is being staged at Durban Country Club which most recently hosted a co-sanctioned European Tour event in December 2010 - the South African Open.
The course is 90 years old, has plenty of vegetation but little in the way of water hazards. It is also considered one of the finest venues in South Africa.
Here are some preview stats ahead of this week's Volvo Champions event...
FORM in SOUTH AFRICA
Last 10 co-sanctioned European Tour events staged in South Africa
Player: 1 / 2 / 3 / 4 / 5 / 6 / 7 / 8 / 9 / 10

Thomas Bjorn: - / - / - / - / - / - / 16 / - / - / -
Rafael Cabrera-Bello: - / - / - / - / - / - / - / - / - / -
Paul Casey: - / - / - / - / - / - / - / - / - / -
Darren Clarke: 26 / 20 / - / - / - / - / 20 / - / - / -
Nicolas Colsaerts: - / - / - / - / - / - / 4 / - / - / -
Jamie Donaldson: - / 27 / - / - / - / - / - / - / - / -
Ernie Els: - / - / - / 69 / - / - / 2 / - / - / -
Gonzalo F'dez-Castano: - / - / - / - / - / - / 26 / - / - / -
Darren Fichardt: MC / MC / 13 / 25 / 18 / 46 / - / 6 / 39 / 20
Retief Goosen: MC / - / - / 6 / 3 / 16 / 2 / - / - / -
Branden Grace: 8 / 13 / MC / 9 / 14 / Won / Won / 65 / 39 / 12
Padraig Harrington: - / - / - / - / - / - / 10 / - / - / -
Michael Hoey: - / - / - / - / - / - / 33 / - / - / Ret
Thongchai Jaidee: - / - / - / - / - / - / - / - / - / -
Scott Jamieson: MC / 6 / MC / MC / - / 24 / - / - / Won / 3
Jbe Kruger: 8 / MC / 9 / 25 / MC / 9 / - / MC / - / -
Paul Lawrie: - / - / - / - / - / - / 10 / - / - / -
Shane Lowry: - / - / - / - / - / - / - / - / - / -
Matteo Manassero: - / - / - / - / - / - / 23 / - / - / -
Francesco Molinari: - / - / - / - / - / - / - / - / - / -
Colin Montgomerie: - / - / - / - / - / - / 31 / - / - / -
Jose Maria Olazabal: - / - / - / - / - / - / 6 / - / - / -
Thorbjorn Olesen: - / MC / - / - / - / - / - / - / - / -
Louis Oosthuizen: Won / - / - / - / Won / - / 7 / - / - / Wd
Julien Quesne: - / - / - / - / 54 / 24 / - / - / 8 / MC
Richie Ramsay: - / - / - / - / - / - / - / - / - / -
Robert Rock: 51 / 70 / 38 / 47 / - / 9 / 12 / - / - / 37
Ricardo Santos: - / - / - / - / MC / MC / - / - / - / -
Marcel Siem: - / - / - / - / - / - / - / - / - / -
Jeev Milkha Singh: - / - / - / - / - / - / - / - / - / -
Henrik Stenson: - / - / - / - / - / - / - / Won / - / -
Bernd Wiesberger: 44 / MC / MC / 2 / - / 9 / - / - / - / -
Danny Willett: - / 33 / - / - / 7 / 14 / - / - / - / 18
Course Key: 1: East London; 2: Royal Johannesburg & Kensington; 3: Leopard Creek; 4: Serengeti; 5: East London; 6: Royal Johannesburg & Kensington; 7: Fancourt; 8: Serengeti; 9: Royal Durban *; 10: Leopard Creek
Note: * - 36-hole tournament due to poor weather conditions
STROKE AVERAGES
For Last 10 co-sanctioned European Tour events staged in South Africa
Average (Rounds)

69.44: Danny Willett (16)
69.50: Retief Goosen (18)
69.80: Scott Jamieson (20)
69.81: Branden Grace (36)
70.00: Darren Fichardt (30)
70.18: Jbe Kruger (22)
70.38: Bernd Wiesberger (16)
71.50: Robert Rock (28)
(Min. No. of Rounds = 16)
DURBAN COUNTRY CLUB Form
Competed in South African Open at Durban Country Club in December 2010

Ernie Els: (Won)
Retief Goosen: (2nd)
Louis Oosthuizen: (3rd)
Robert Rock: (T-5th)
Thorbjorn Olesen: (T-9th)
Branden Grace: (T-21st)
Jbe Kruger: (T-33rd)
Bernd Wiesberger: (T-39th)
Marcel Siem: (T-42nd)
Darren Fichardt: (MC)
Michael Hoey: (MC)
Scott Jamieson: (MC)
Richie Ramsay: (MC)
Rafael Cabrera-Bello: (Dq)
AVERAGE TOURNAMENT POSITIONS
For co-sanctioned European Tour events staged in South Africa since January 1st, 2008
Average (Events)

18.13: Retief Goosen (8)
21.57: Darren Clarke (7)
26.50: Robert Rock (14)
27.00: Danny Willett (8)
35.15: Louis Oosthuizen (13)
35.95: Branden Grace (19)
45.57: Rafael Cabrera-Bello (7)
48.42: Darren Fichardt (19)
52.00: Bernd Wiesberger (10)
55.13: Jbe Kruger (16)
55.22: Julien Quesne (9)
55.44: Scott Jamieson (9)
61.75: Michael Hoey (12)
71.83: Richie Ramsay (6)
(Min. No. of Events = 6)
AVERAGE TOURNAMENT POSITIONS
2012 European Tour season
Average (Events)

20.44: Louis Oosthuizen (16)
21.70: Ernie Els (10)
23.04: Francesco Molinari (25)
26.48: Nicolas Colsaerts (25)
32.16: Paul Lawrie (25)
35.50: Matteo Manassero (26)
37.18: Thomas Bjorn (22)
37.29: Henrik Stenson (14)
37.46: Thorbjorn Olesen (28)
38.19: Marcel Siem (26)
38.79: Padraig Harrington (14)
39.05: Jamie Donaldson (22)
41.29: Thongchai Jaidee (24)
41.57: Retief Goosen (14)
42.15: Rafael Cabrera-Bello (27)
42.42: Gonzalo F'dez-Castano (24)
42.50: Danny Willett (24)
44.00: Branden Grace (26)
50.40: Shane Lowry (25)
50.96: Richie Ramsay (24)
51.46: Jeev Milkha Singh (24)
51.68: Bernd Wiesberger (28)
52.54: Robert Rock (24)
58.97: Scott Jamieson (29)
60.18: Darren Fichardt (22)
62.61: Julien Quesne (23)
67.15: Michael Hoey (26)
67.67: Darren Clarke (18)
67.86: Jbe Kruger (29)
69.85: Jose Maria Olazabal (20)
72.46: Ricardo Santos (26)
79.79: Colin Montgomerie (19)
84.53: Paul Casey (17)
Durban Country Club: Par 72; 6,732 yards