Volvo Golf Champions - Open champion Ernie Els overjoyed to have Claret Jug again
Ernie Els is loving life as Open champion as he starts the new season at the Volvo Golf Champions in South Africa.
Last Updated: 09/01/13 5:49pm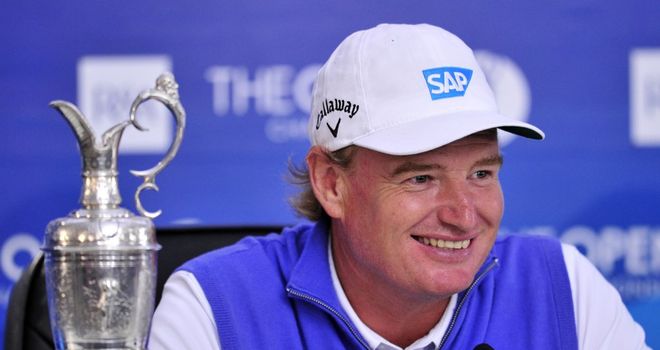 The 43-year-old lost in a play-off to fellow South African Branden Grace last year, but feels he is a new player now he has another Open Championship title to his name.
Last July's win at Royal Lytham was a first major in a decade for the 'Big Easy' and now he is looking at his golf with a fresh new outlook, thanks to that famous jug that is back in his possession.
"It's such a special trophy," said Els. "I've got it here this week and I've been taking it everywhere with me - it's just a wonderful feeling to have it with you."
As a consequence of his Open triumph, Els is back in the Masters this year after his fall from the top 50 saw him miss out in 2012 for the first time since 1994.
"I was disappointed about not playing there," he added. "But I was glad they didn't invite me. I think those invites must go to guys at the end of their line and I felt I wasn't.
"It wasn't a case of 'hey look at this'. Not at all."
Els will defend his title at Muirfield this year - the course he won his first Open title at in 2002, but whether he will do so with a belly putter remains to be seen after the recent ruling outlawing anchored strokes from 2016.
"I think the long putter has really helped me in certain aspects of putting, but I went to Johor in the middle of December and played two rounds with the short putter.
"I felt quite good.
Magic wand
"We'll see. A lot of guys thought it was a magic wand, but it's not - you have to put work into it. I was fortunate to win the Open Championship, making those putts on the final nine.
"There are people that want to look after the game and the future of the game and if they so feel that they need to ban it I'll go with it, but I'm definitely not for that.
"I've given my views, so they know where I'm coming from. When I make these comments it's no shock to anybody. I'm against it, but I want to honour the game, wherever it takes us."
Els partners Belgian Ryder Cup player Nicolas Colsaerts - proud possessor of his first Masters invite - in the opening round at Durban Country Club, while Scots Paul Lawrie and Colin Montgomerie are paired.
The tournament is restricted to last year's European Tour winners, past champions of the event and those with 10 or more career victories on the circuit.
Paul Casey qualifies on the last two counts. He won it Bahrain in 2011, but was unable to defend 12 months ago after breaking his collarbone snowboarding.