Paul McGinley has been confirmed as Europe's captain for the 2014 Ryder Cup
Paul McGinley has been confirmed as Europe's captain for the 2014 Ryder Cup match at Gleneagles.
Last Updated: 15/01/13 9:12pm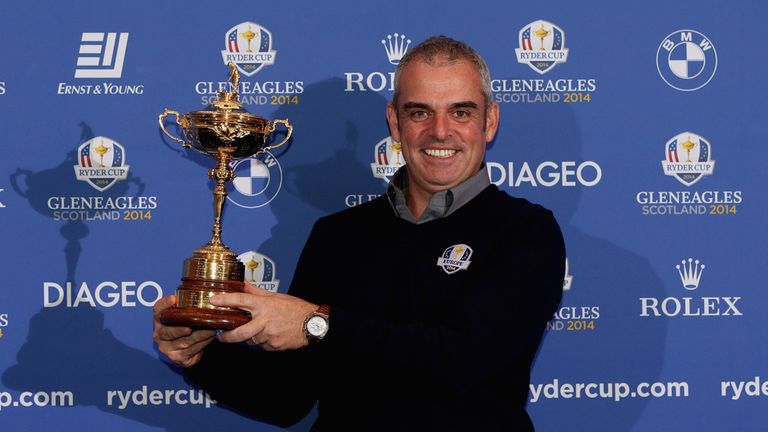 The 46-year-old Dubliner, who becomes Ireland's first captain in the event, succeeds Jose Maria Olazabal in the position and will go up against an American side that will have golfing great Tom Watson back in charge at the age of 65.
McGinley holed the 10-foot winning putt on his debut at The Belfry in 2002 and was also part of the victorious sides in 2004 and 2006 before becoming an assistant to Colin Montgomerie three years ago and then Olazabal at Medinah - both wins as well.
Speaking to the media after his appointment, McGinley said: "I'm obviously very pleased to be in this situation. This is a position that I'm really thrilled to be in, and it's also a very humbling experience. I can't wait to get into the role of being the captain.
"I'm relishing the thought of taking on one of my great heroes, Tom Watson. He's not only a wonderful person but a great ambassador for the game of golf.
"I've never had an opportunity to go up against him in a playing sense. To go up against him in a captaincy sense will be a real thrill for me.
"It's a week that I'm really looking forward to."
Initially McGinley looked to be going head-to-head with Darren Clarke for the job at Gleneagles, but Clarke withdrew from the race in order to focus on his playing commitments and, in recent days, Montgomerie had emerged as McGinley's main rival.
But the Dubliner received widespread support from prominent members of Europe's winning team at Medinah, including Rory McIlroy, Luke Donald and Ian Poulter, which seemed to ultimately sway the European Tour's tournament committee vote in his favour.
McIlroy delighted
Reacting to the news of McGinley's appointment, McIlroy tweeted: "Common sense prevailed in the end.... Paul McGinley 2014 European Ryder Cup captain!!! Couldn't be happier for him... Roll on Gleneagles."
Addressing reporters, chairman of the European Tour's tournament committee, Thomas Bjorn, revealed that Montgomerie had not been the only other name discussed with Sandy Lyle, Miguel Angel Jimenez and Paul Lawrie also coming under consideration.
There had been speculation that the committee would opt for a 'big personality' following the US decision to select eight-time major winner Watson.
McGinley has only four Tour wins in his career and was therefore perceived to lack the high profile of some of his rivals.
But Bjorn explained that his popularity with the players and outstanding record in the Ryder Cup, both as a player and member of the back-room staff, had seen him given the nod.
"We made the right decision, our players on the Tour wanted us to make this decision and we listen to our players and that's who we represent," Bjorn explained.
"All those names were discussed and we're happy we came out with this choice.
"It's never an easy choice to make because everybody that was discussed has all the rights to be Ryder Cup captain but we had to choose one and we think we chose the right one."