Phil Mickelson was disappointed as he struggled in his PGA Tour start
Phil Mickelson was disappointed with the start to his PGA Tour after a roller-coaster round at the Humana Challenge.
Last Updated: 18/01/13 5:53pm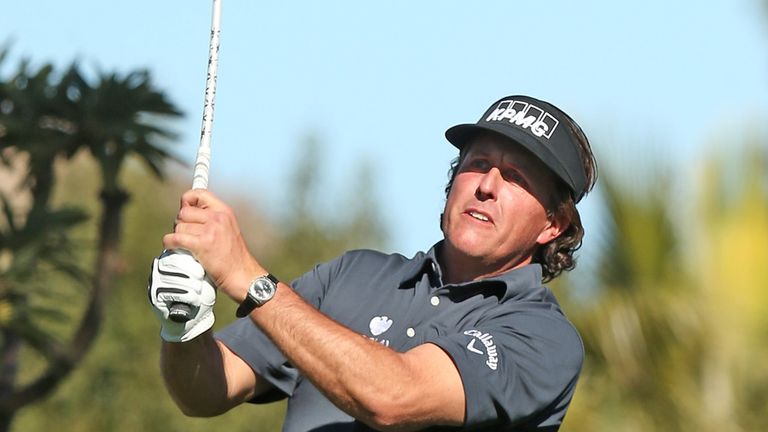 The four-time major winner totalled 30 putts ending in a level-par 72, and on a day of generally low scoring he finished a distant nine off the first-round lead.
A disappointed Mickelson said: "My timing and rhythm was off a little bit today.
"My putter was atrocious and I've been putting great (in practice) too, so that was disappointing. I know that it's there even though the results today were not good. I'm looking forward to playing tomorrow.
"I birdied the last hole and hit some decent shots coming in but (going) out-of-bounds on 10 and (missing) four, five, six-footers, that has prevented me from having a good round today."
Looking ahead, he added: "I was nervous today and excited to play and maybe a little over amped because again everything was quick - my rhythm, timing, everything was quick. My putting was a little firm. Hopefully I'll settle down tomorrow and play a good round."
Mickelson, who won the tournament in 2002 and 2004, three-putted for a disappointing par five after hitting a superb five-wood to 35 feet at the long 13th and drove out-of-bounds at the 10th to record a double-bogey.
"To three-putt (13), it was just a lot of rough stuff today," the former world number two said. "But coming in here, even though I hadn't been able to practise a lot, when did I play and hit balls I was playing great.
"And then today my rhythm was really off. I hit some shots I hadn't been hitting, but kept the ball in play off the tee. I hit a lot of fairways today and was able to shake out an even par round today.
"As bad as that is, I've got a low round in me tomorrow, I think, and it doesn't feel like it's far off."
Suffering from a spell of flu during his tournament preparations, Mickelson added: ""I've felt a lot better.
"It was like day 10 but I'm fine now. I'm 95 percent better. I'm not contagious. The energy's coming back, I've been able to practise, I played a little bit yesterday and it's fine."