Tiger Woods set to miss cut in Abu Dhabi after two-stroke penalty
Tiger Woods missed the cut at the Abu Dhabi Golf Championship after being handed a two-shot penalty.
By Mark Kendall - Twitter: @SkySportsMK
Last Updated: 18/01/13 2:25pm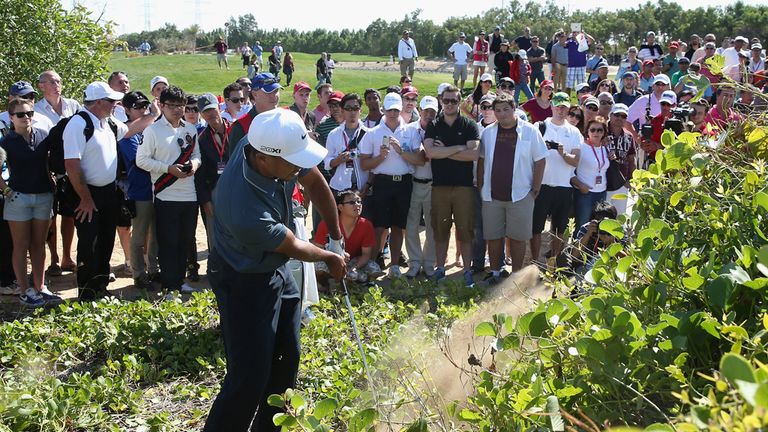 After opening with a level-par 72, the American endured an awful start on Friday, making four bogeys in his first five holes - including one at the fifth - to slump to four-over early on.
But he battled back in typical fashion and four birdies on the back nine gave him what appeared to be a round of 71 and a halfway score of one-over - just inside the cutline which fell at two-over.
However, he was subsequently informed by European Tour senior referee, Andy McFee, that he had been handed a two-shot penalty for an incident at the fifth hole.
Having driven a long way right into undergrowth and found what he considered an "embedded" lie, Woods called across playing partner Martin Kaymer to confirm that the German agreed with his assessment.
With Kaymer having consented, Woods went ahead and picked up his ball before dropping it without first calling a rules official to check.
He was later informed by McPhee that because the ground where the ball had landed was made up largely of sand, he was not entitled to a drop and was subsequently handed his penalty.
Infraction
Speaking to Sky Sports, Woods said: "On five I called Martin over to verify the ball was embedded, we both agreed it was embedded, but evidently it was in sand and Andy ruled that I had broken an infraction there and consequently I got a two-shot penalty.
"Andy feels the way he feels about it and I broke the rules.
"Andy said the ball wasn't embedded because it was sandy-based, as I said I called Martin over to verify and we thought it was embedded, but evidently it wasn't."
It meant that Woods' original bogey-five was changed to a triple-bogey seven, denying him the chance to compete over the weekend.
"It's tough because I didn't get off to a very good start today and I fought and got it back," he added.
"I was right there and felt if I had posted even-par I had a chance going into the weekend as I'd be only eight back."
England's Justin Rose leads the tournament at the halfway stage by one shot on eight-under-par after a second round of 69.