New world number one Tiger Woods targets 15th major as Masters test beckons
With the Masters just around the corner, Tiger Woods chose Bay Hill to remind the golf world of his talents.
Last Updated: 26/03/13 6:23pm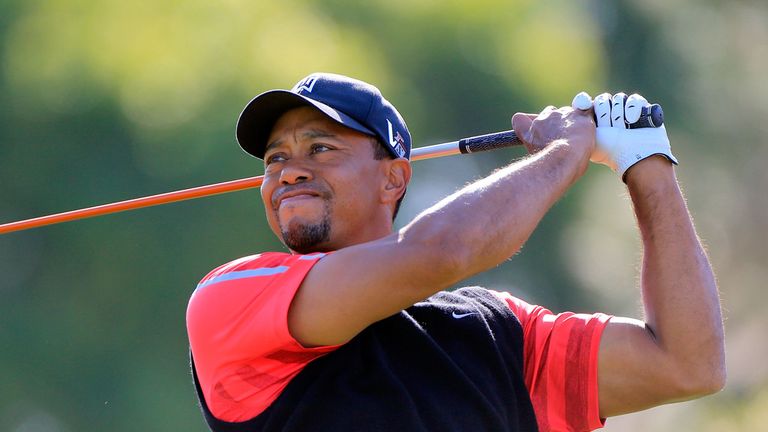 Once a permanent presence at the top of the game's rankings, the 37-year-old had not looked down on the rest since October 2010, with a myriad of reasons veering him off course.
But victory in the rain-delayed fourth round of the Arnold Palmer Invitational yesterday - his eighth win there - pushed him above Rory McIlroy and back into the number one spot.
He is already hot favourite for next month's Masters with his odds to win at Augusta cut to 100/30 from 9/2 with Sky Bet. Former world number one McIlroy is next best at 9/1.
The next week will be Woods' 624th as the top dog and he says there is no secret as to why he is back at the summit.
"It's a by-product of hard work, patience and getting back to winning golf tournaments," he said.
Woods won the event by two shots from Justin Rose - the Englishman is up to a career-best third - and will now head to the Masters looking to end a five-year major drought.
He remains on 14 but is not entertaining the critics who say he has to make it 15 before he can be considered 'back'.
"It's up to them. It's their opinion, I'm very pleased with the way I'm playing," he added.
"It's been a few years since I've felt this good. I've turned some of the weaknesses that I had last year into strengths. I'm really excited about the rest of this year.
"The very beginning of the year I was excited because of how the end of last year turned. My short game came around, I thought my swing was getting better my short irons got better, lo and behold, I won a few tournaments this year."
During his well-reported slump, Woods dropped as low as number 58 in the world, but this was his third success of the year and his sixth dating back to another victory at Bay Hill a year ago.
As his nearest challenger come the end, Rose was well placed to comment on how well he was playing.
"He plays every shot like he plays them on Sunday," Rose said.
"His intensity is the same on Thursday often as it is on Sunday, and that makes Sunday a lot less different for him.
"He plays in that kind of atmosphere far more regularly than a lot of guys do, and it's an adjustment for most of us. It's a known for him."
Rose perhaps put everything in perspective afterwards when he said of the final round: "You're not expecting him to go backward, so I was trying to birdie every hole, I was trying to be aggressive, and he can force you into that.
"I was lucky enough that he didn't force me into any mistakes, but Rickie (Fowler), coming down the 16th, maybe took too much on going for that flag. Those are sometimes the mistakes you can be pressed into making."
Fowler agreed with Rose that Tiger was once again the intimidating front runner he so often used to be and said of the re-charged Tiger: "He's not going to give shots away, He's tough to beat in that way. You have to gain shots on him by making birdies."
But even this wasn't enough. When Fowler nailed an astonishing 37-foot birdie putt on the par-for 12th hole, Woods calmly stepped up and rolled home a 27-foot birdie putt of his own.
"It was the Tiger of old," Woods' caddie, Joe LaCava, said of that outstanding hit-back shot. "Most guys would hang their head like (after seeing Fowler's monster putt find the hole). I can't believe that guy (Fowler) made the putt that he did. For Tiger to come back... that was big."
So, even before the season's first major, the Masters in two weeks' time, Tiger has already won three times.
- has matched another long-time record - his eight win at Bay Hill enabled him to share with Sam Snead the PGA Tour record for most wins in the same tournament...
- has taken his all-time number of wins on the PGA Tour to 77.
- has regained the number one spot on both the World Rankings list and the FedEx Cup standings.
-has established himself as the stand-out favourite to win his 5th Masters and 15th major when he attempts to chase down Jack Nicklaus's record of 18 major victories.
And all this at a time when he is still in his mid-thirties and, from all reports, a lot more relaxed and happy about his of-course private life since meeting US Olympic skier Lindsey Vonn.