Sergio Garcia reflects on flawless opening 66 on day one at the Masters
Sergio Garcia reflected on his "best 10 holes" at Augusta National after earning a share of the lead at the Masters.
Last Updated: 12/04/13 5:17pm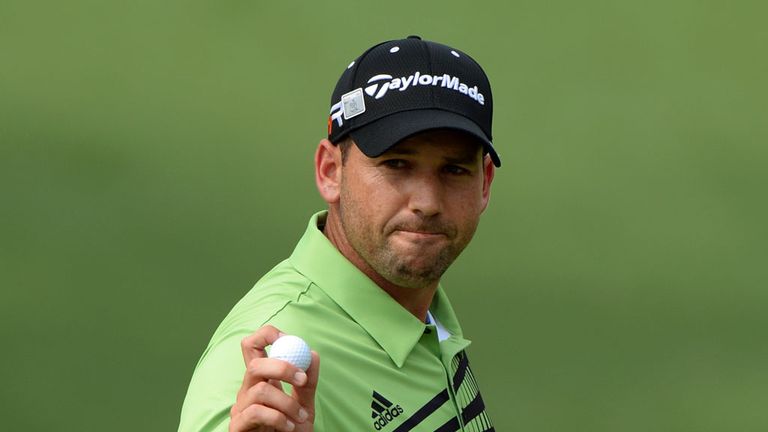 The 33-year-old got into an excellent rhythm with his irons from the start and rolled in his fifth birdie putt of the round at the 10th before adding another at 15 and parring in to cap a superb 66.
Garcia leads on six under alongside Marc Leishman, but he is determined not to get ahead of himself as he bids to end his long wait for an overdue first major title.
"What I'm going to try to take into my pillow tonight, it's the first 10 holes. I think it's without a doubt the best 10 holes I've played at the Masters," he said.
"Even though scoring-wise maybe it wasn't, but the way I hit the ball and the amount of birdie chances that I gave myself, it was.
"The first 10 holes was amazing. I felt so good and hit so many great shots. Even though I was hitting four, five or six-iron into the greens, it felt like I was 10-15ft away all the time, and it's hard to do that on this course."
Garcia raised a number of eyebrows at Augusta 12 months ago when he claimed he was not good enough to win a major, insisting he was resigned to "playing for second or third".
The Spaniard made the comments after a disappointing third-round 75, and he admitted he had not chosen his words well.
"It was one of those moments where you are a little frustrated," he added. "It probably came out wrong the way I said it. It doesn't change that every week I tee it up and try to play my best golf and give myself a chance to win.
"We go through times, but not only myself, everybody, even Tiger has gone through that stretch where he was struggling. Obviously he wasn't feeling as comfortable and he wasn't as confident.
"We all go through those moments. The beauty and the bad thing about this game is that, that it can have such highs and such lows, because it's a lot more mental than some of the other games. The most important thing is to make sure that you get through."