Masters: Ben Crenshaw and Matteo Manassero disappointed by one-shot penalty for Guan Tianlang
Ben Crenshaw and Matteo Manassero felt sorry for Guan Tianlang after he was penalised for slow play at the Masters.
Last Updated: 13/04/13 2:34am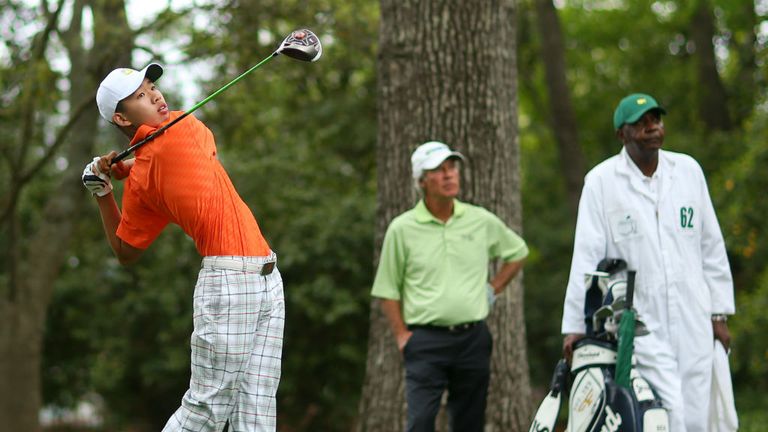 The 14-year-old was docked a shot by European Tour chief referee John Paramor on the 17th hole of his second round having been put on the clock on the 16th tee.
The penalty turned a regulation par into a bogey five, but Guan bravely parred the last for a 75 to finish on four over, which was just good enough to qualify for the weekend.
Playing partner and two-time champion Crenshaw said: "This is not going to end pretty. I'm sick for him. I feel terrible. He is 14 years old. I'm so sorry this has happened.
"The way I understand it, he was warned after he walked off the 16th. He had obviously the most diabolical putt you could face and he made a brilliant two-putt.
"I'm going to say this; anybody would take time in order to get up and hit that putt. That's number one. And then number two, I think our group was warned maybe once that maybe we were out of position. And that was on the front nine.
"So then we kept on going. But on 16, that was apparently the first he was warned and then the violation apparently came on the second shot at 17.
"When you get the wind blowing out here, believe me, you're going to change your mind a lot. It is not easy to get around this golf course the way it's set up for two days.
"There's no question he played slowly at times. But he was working things out. The rule's 45 seconds and it's pretty difficult for somebody to do that in a tournament like this with conditions the way they are.
"It's going to happen, but I'm really sorry. This is not pretty."
Manassero also felt sorry for Guan although he admitted he had been slow, adding: "I think it's the biggest thing he needs to be careful about, because I think he's ready.
"When the caddie pulls the club for him, I think he's ready. But most of the times that he takes a little too long he just asks questions that I think he knows, but just to be sure, just to be clear in his mind.
"We all feel sorry, but this is the way professional golf goes. This will end up being a great experience for him.
"We all hope he's going to make the cut, but this certainly will be a very valuable lesson. He will never forget it for sure, and he will learn from it."