The Masters: Tiger Woods accepts two-shot penalty after avoiding disqualification
Tiger Woods has issued a statement accepting the decision of the Masters committee to impose a two-shot penalty.
Last Updated: 13/04/13 5:58pm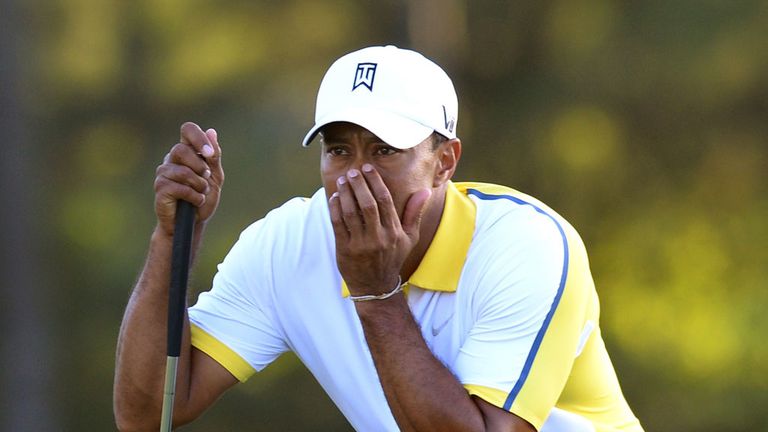 Woods was summoned by tournament officials investigating his drop at the 15th during his second round, after his initial pitch had hit the pin and spun back into the water.
The world No 1 faced disqualification for his infringement, but the committee opted to hit him with a two-shot penalty - a decision which is certain to be debated long after the 77th Masters concludes.
"At hole 15, I took a drop that I thought was correct and in accordance with the rules. I was unaware at that time I had violated any rules," Woods wrote on his official Twitter account.
"I didn't know I had taken an incorrect drop prior to signing my scorecard. Subsequently, I met with the Masters Committee Saturday morning and was advised they had reviewed the incident prior to the completion of my round.
"Their initial determination was that there was no violation, but they had additional concerns based on my post-round interview. After discussing the situation with them this morning, I was assessed a two-shot penalty.
I understand and accept the penalty and respect the Committees' decision."
Divided
The incident has divided the world of golf, with the likes of three-time champion Sir Nick Faldo urging Woods to disqualify himself from the tournament.
"I think Tiger would gain massive brownie points if he stood up and said 'You are right, I have broken the rules, I'll see you next week'," Faldo said.
"I think he got confused. His head was spinning, he was angry. He made a mistake, simple as that. He is judge and jury. He gained an advantage. He said so himself.
"He has to sit down quietly and think about this - the mark this will leave on his career, his legacy."
Former world No 1 David Duval tweeted: "Was there intent to break the rule is the question? I think he should WD. He took a drop to gain an advantage.
"DQ believers aren't wrong. 2 shot penalty believers not wrong. Precedent is now set."
But Graeme McDowell took to Twitter to defend the decision, saying: "From Augusta's statement we know that the possible infringement was detected before he finished the round. Should have been dealt with then.
"Take the fact that it was Tiger out of the equation and it is a fair ruling. Since it is him the debate begins about TV ratings etc etc."