Senior PGA Championships: Jay Haas and Duffy Waldorf card 66s
Jay Haas and Duffy Waldorf share the lead after the opening round of the Senior PGA Championships in St Louis.
Last Updated: 25/05/13 3:39pm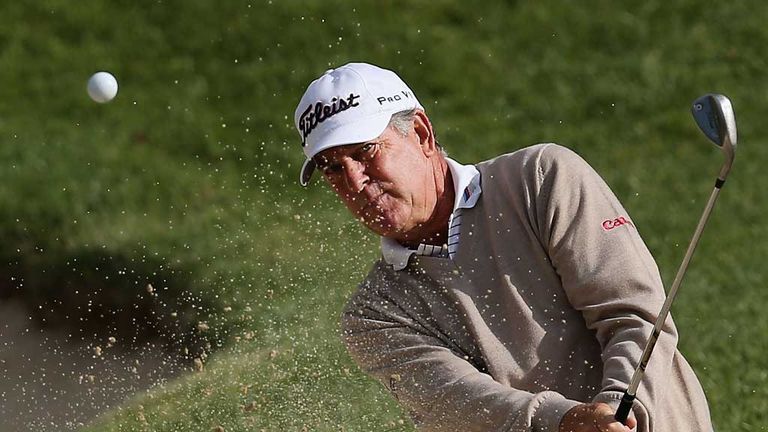 England's Roger Chapman, the defending champion, is six shots back after a shaky opening 72.
St Louis-born Haas, who is having to battle back pain, is aiming for a third PGA Championship title and he fired a flawless five-under-par 66.
Japan's Kiyoshi Murota and American club professional Sonny Skinner started out with 67s in the first of the season's five senior majors, finishing a stroke in front of Taiwan's Lu Chien-soon and Australian Peter Senior.
Haas, who won the Senior PGA Championship in 2006 and 2008, admitted he was thrilled with his opening round.
"Certainly very excited about shooting five under here," he said. "Probably my lowest score ever at Bellerive, no matter what age I was. I didn't expect it going out.
Pleased
"I wasn't very sharp today, but my misses were in the correct spots and I took advantage of a few good iron shots. I'm very, very pleased with that."
Haas admitted his back is an issue: "A little bit. It's tight, it doesn't allow me to kind of stay in my spine angle. Just trying to hit the fairways was my first key and I did that a lot today."
Waldorf is yet to win in 11 career starts on the 50-and-over tour after winning four times on the PGA Tour.
"Tee to green, it was a very good day," Waldorf said. "All in all, I hit the ball really well. I really liked my iron play. I had quite a few birdie putts. I didn't make them all so I feel like I still had some more out there."
Chapman, who won last year's Senior PGA Championship by two shots over American John Cook before landing a second major crown at the US Senior Open two months later, launched his title defence with a 72.
"I was a bit nervous," said the 54-year-old said after mixing two bogeys with a lone birdie. "I got off to a shaky start. But I just sort of stuck in there, hung around.
"I didn't play great, sort of up-and-down a few times for pars. But overall 72, in the breeze today, wasn't too bad."