US Open: Sergio Garcia recovers from horror start to US Open
Sergio Garcia played down heckling from the galleries as he staged a fine recovery on the first day of the US Open.
Last Updated: 14/06/13 5:14am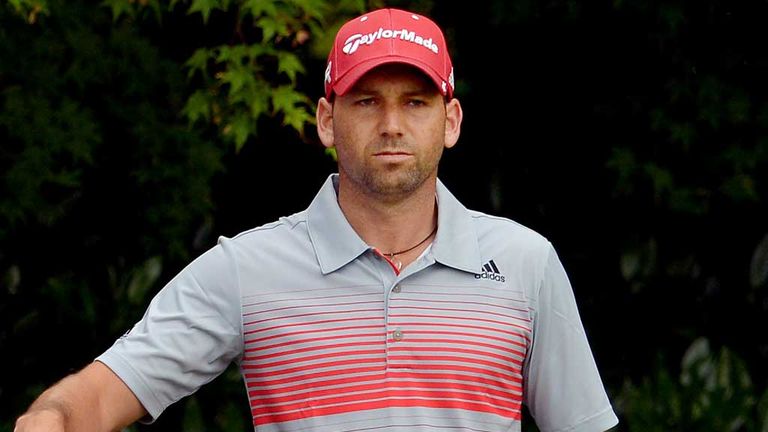 The Spaniard, who has issued several public apologies in relation to his "fried chicken" row with Tiger Woods, was warmly greeted on the 11th tee - his first - as cheers drowned out a lone "boo".
But after the three-and-a-half hour storm delay, Garcia hooked his tee shots at the 14th and 15th out of bounds and ran up a double bogey and quadruple bogey respectively.
The Ryder Cup star also bogeyed the 18th, but he followed a birdie at the first with an eagle at the second, and he converted excellent approaches at eight and 10 to salvage a respectable three-over 73.
Garcia made light of the odd heckle during his round, and he reportedly declined an offer from officials to have the offenders removed.
"I think it was very good for the most part, I was happy with it," he said. "There were a couple of wisecracks but I thought the people were very nice. Almost all of them were behind me and that was nice."
As for his round, Garcia added: "I had two really bad holes but that's the way it is. This US Open is not giving you much room.
"On the 14th I slipped and hooked my drive out of bounds and on the 15th I hit a really bad tee shot out of bounds.
"I was making my week a bit tougher but I battled back as much as I could coming in and was able to shoot a decent score after being seven over after eight."
Garcia shook hands with Woods on the range on Monday and left a note in his locker on Tuesday after being unable to apologise in person, but he admitted he had not seen him since.