US Open: Tiger Woods likes his chances of ending major drought after 73 and 70
Tiger Woods played down injury fears and insisted he liked his chances of winning his first major since 2008.
Last Updated: 15/06/13 10:02am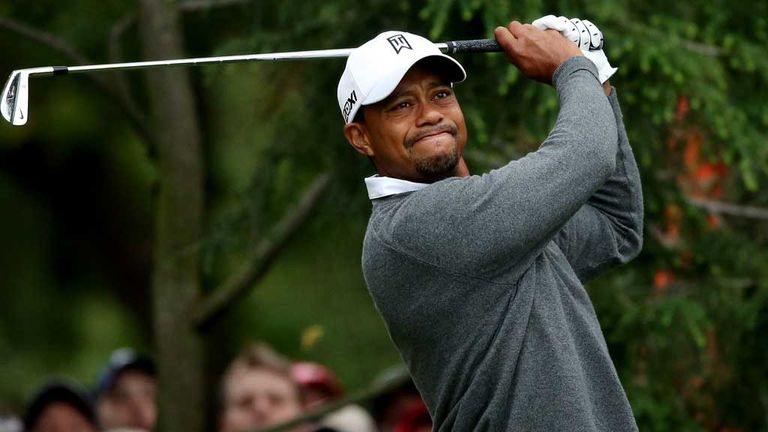 The world No 1 and playing partner Rory McIlroy both carded rounds of 73 and 70 to reach the halfway stage at three over par.
Woods continued to play through the pain of an inflammation of his left elbow as he completed his opening round at Merion early on Friday morning.
But he found the ideal medicine with two birdies in the first four holes of his second round, although he then made a mess of the next two and did superbly well to save par both times.
Woods couldn't avoid a dropped shot at the seventh, but he got it right back after a delightful tee shot to the short 13th before he bogeyed the next and closed with another five.
Asked if he liked his chances of ending his five-year major drought, he said simply: "Yes".
He was equally brief when asked about seemingly being in pain when hitting shots from the rough, saying only that he had hurt his left elbow during his win at the Players Championship last month.
Pretty good
As for his round, Woods added: "I played well. I just made a couple of mistakes out there today, but I really played well. Maybe I could have gotten one or two more out of it, but it was a pretty good day.
"You just don't ever know what the winning score is going to be. You don't know if the guys are going to come back. We have a long way to go and these conditions aren't going to get any easier. They're going to get more difficult.
"They gave us some really tough pins. We didn't think they were going to be as severe as they were. They made them a little more difficult trying to protect par.
"And as the fairway starts drying out, the ball is going to pick up mud, and you're going to get bad breaks."