David Higgins takes full blame for having extra club in his bag at Open qualifying
David Higgins admitted he only has himself to blame for the blunder that cost him the chance of a place at The Open.
Last Updated: 11/07/13 1:39pm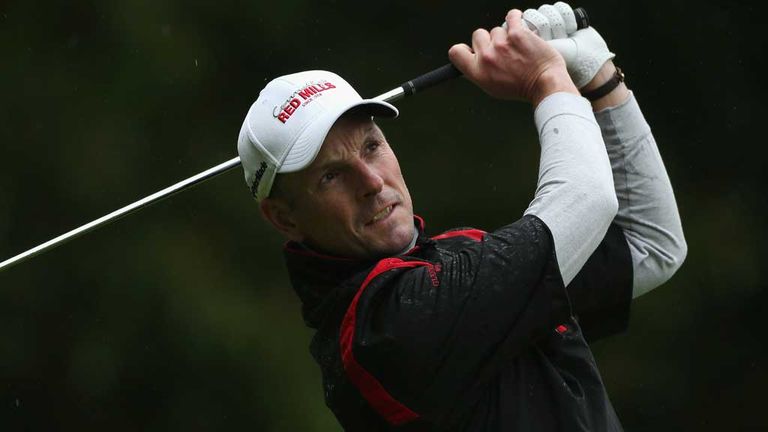 The Irishman was involved in a play-off along with Gareth Wright and George Murray in Local Final Qualifying at North Berwick when he discovered a 15th club in his bag at the first extra hole.
The two-shot penalty for exceeding the 14-club limit ended his hopes of playing at Muirfield later this month.
The 40-year-old had earlier believed his five-under score would not have been good enough to contend, so he took his clubs back to his car along with an extra hybrid club.
But neither Higgins or his caddie remembered to take the spare hybrid out of his bag when the play-off commenced, and he was on the first green lining up a birdie putt when the oversight dawned on him.
"I couldn't believe it but was delighted to see the way things were panning out as I moved up the leaderboard and became more confident that I could get one of the spots available in the playoff," Higgins said.
"I decided to go the range to warm up again and hit a few balls. I just took driver, mid iron and wedge. It was still raining really hard so I kept the rain cover on my bag.
"My caddy for the day, Monty, a local man that knows North Berwick like the back of his hand, had done a great job all day and was up for the play-off.
"We headed for the tee. I hit a good tee shot and good second to about 15 feet. I was hunkered down reading my putt when the thought suddenly came into my head, 'Did I take that other rescue out of the bag?'
"I stood up and felt a bit sick in my stomach as I walked over to the bag to check. And there she was looking up at me!
"It was a horrible thing to happen but I have no-one to blame only myself. I guess the excitement/adrenaline rush of getting another opportunity to play in the greatest golf event in the world clouded my judgement and I made a mistake."