The Open: Phil Mickelson buoyed by putting improvement
Phil Mickelson believes he has found a solution to his putting problems but refused to divulge his secret.
Last Updated: 18/07/13 10:46am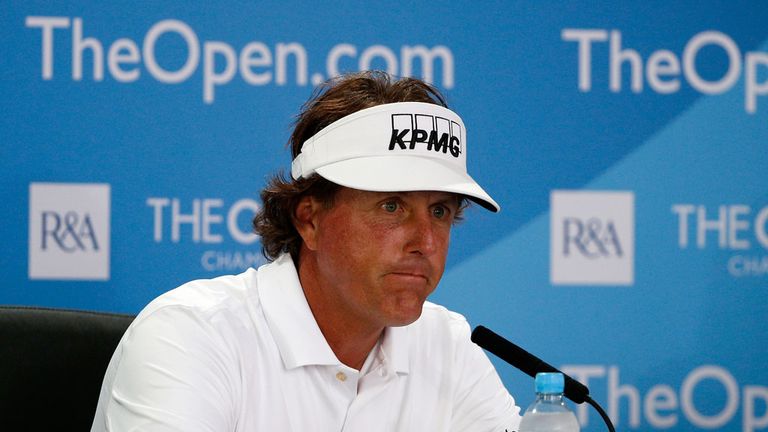 Mickelson secured his first individual victory in Britain after winning the Scottish Open at Castle Stuart over the weekend and he is feeling positive ahead of The Open Championship at Muirfield.
"The common thread (to his previous failures) is, I believe, more on the greens than anything," he said.
"I've not putted these (Muirfield) greens well with these little subtle nuances and rolls, with the crosswinds that come into play, as well as the strong blades of fescue grass.
"But I am really optimistic about this week and going forward because I'm starting to putt as well as I ever have.
"I putted great last week, and more than that I've been putting well now for months, and feel like I've really keyed in on something.
"I believe I have kind of found the secret to my own putting and what I need to do to putt well.
"I'm not going to discuss it because I don't really want to share.
"I think that last week was a very positive sign for me and hopefully that one common thread that's given me problems here I hopefully have solved."
Mickelson also revealed he has decided not to pack a driver and will instead focus on his short game.
"I'm not going to carry it (driver) this week, I feel like the 64 degree wedge on this firm ground can save me some shots and I just don't see how a driver is going to help me in any areas," he added.
"I'm able to hit that three-wood on this firm ground every bit close enough in distance and distance on any tee shot is not even in my mind.
"It's avoiding bunkers, avoiding rough, getting the ball on the fairway and I can do it a lot easier with clubs other than driver.
"The firmness of the ground makes the touch and sensitivity to chipping so much greater that I feel like that's the area where you can save the most shots.
"Ultimately the winner excels at his ability inside 40 yards and I would put that as the highest percentage of importance."