The Open: Fall-out with Tiger Woods is old news - Sergio Garcia
Sergio Garcia says his war of words with Tiger Woods has finished, insisting both players have moved on.
Last Updated: 17/07/13 5:31pm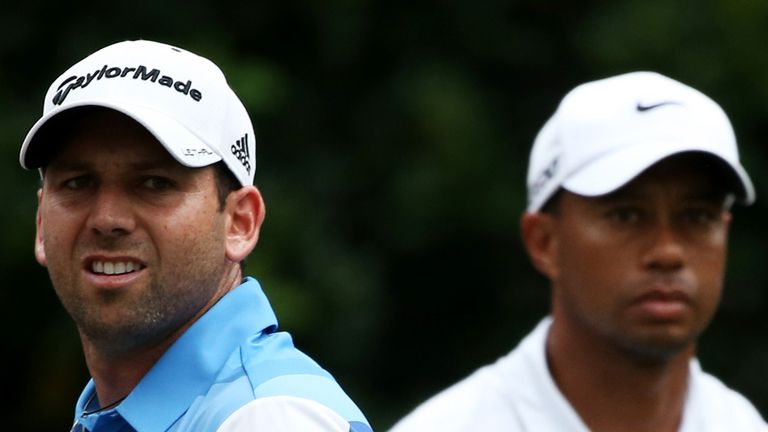 The Spaniard became embroiled in controversy for making what could be construed as a racist remark about the American in May and despite a hand-written note and a handshake at last month's US Open, there still seemed to be unresolved business between the pair.
Woods claimed no direct apology had been forthcoming, but as the duo prepare for The Open at Muirfield it would seem activities on the course are their only priority.
When asked about the current feeling between the players, Garcia refused to discuss the issue but added: "I think we have both moved on and that's it. I'd say a line has been drawn under it."
The controversy followed an on-course dispute at The Players Championship when Garcia responded to being asked if he would invite Woods for dinner with a comment about serving fried chicken.
He immediately offered an unreserved apology for his "stupid and out of place" remark and sought to rectify the situation at Merion a month ago, but it did not appear to have been done satisfactorily.
Garcia has fond memories of Muirfield after winning the Amateur Championship in 1998 aged 18 and finished joint eighth in The Open's last visit to the Scottish links in 2002.
But the 33-year-old does not expect those experiences to help when he tees off on Thursday alongside Lee Westwood and Charl Schwartzel.
Good memories
"It brings good memories but that is it. What I did in 1998 or 2002 is not
going to make any difference this week," he added. "This week is different. I think the course is playing faster and firmer than I've ever played it but you still have to hit the shots.
"It changes the strategy a little bit, there are different clubs you have to use off the tees and you have to fiddle it around a little bit. And if the wind changes like it is supposed to on Friday or Saturday the course will play totally different so it's going to be a mental game."
Garcia is a favourite with the Open galleries and he hopes to be able to feed off their support, having been heckled at Meriod in the United States after his Woods comments.
"I feel fortunate that crowds have treated me well everywhere in the world but the British crowd have always carried me and that is amazing with me not being British," he said.
"To see the support I get from this crowd is unbelievable. I feel okay but I have to feel good when the tournament starts and as the week goes on and there are certain things that can happen so that can make a difference. I'll go round and see where it ends."