The Open: Justin Rose hoping to add Claret Jug to his US Open success
US Open hero Justin Rose hopes one major championship victory will bring another at Muirfield this week.
Last Updated: 18/07/13 9:11am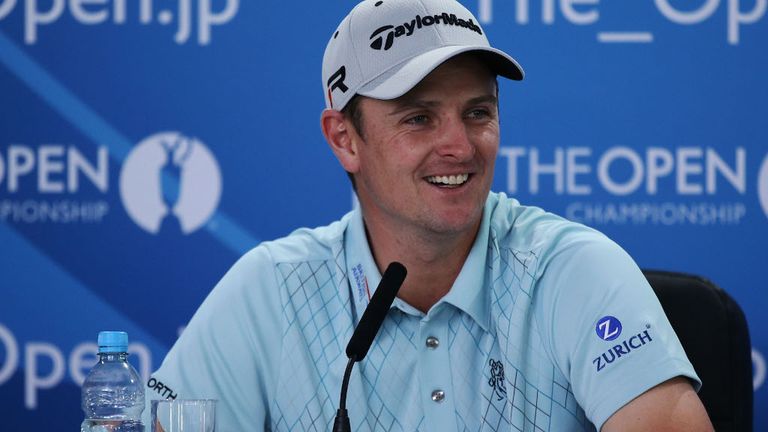 Rose is yet to get his Merion trophy engraved and he hopes to visit Garry Harvey, who has engraved the historic Open trophy since the death of his father Alex, to get that done this week.
The odds are stacked against Rose, with only six greats of the game having won the two tournaments in the same season, but he is fresh and raring to go after taking a long break in the wake of his breakthrough major success.
Rose said: "The big difference between the US Open and The Open Championship is that you get the trophy with your name on it at the prize ceremony.
"With the US Open you get it done yourself. So I'm hoping I get a discount for bulk, a two-for-one deal!
"I've pretty much carried the trophy around for most of the last month.
"Just being able to share it with friends and family and people that have known me since I was 12 years old, and now they're getting a chance to have a picture with the US Open trophy or be able to have dinner and have it sitting on the table. Just little moments amongst close friends and family, that's what really makes it special.
"The Open Championship as a British player is the one event you look forward to more than any other all year, and coming in here off the back of my first major makes it even more special, I guess even more exciting than normal.
"I'm looking forward to getting to play again. I've had three weeks off, the idea being to get my legs back under me, to get 100 percent ready to play again.
Hunger
"And I feel that's been the case. I've spent the last couple of weeks just with family and getting my hunger back for wanting to get back out on the range.
"The challenge for me is going to be staying in this tournament, not being dragged back to Merion every five minutes.
"If you look at my results, they're really not very good in this tournament but I would say that the reality is a little better than that.
"I felt that in 2009 at Turnberry I had a good chance to win there. Just nothing really went my way on Sunday and I putted poorly for the most part on that day (he finished 13th). In 2002 here I was tied third going into the last round.
"Obviously I was just a little bit young and needed a lot more experience under my belt, but given that sort of similar situation this year, that's a situation I'd once again relish.
"I do feel comfortable on links golf. I think having grown up having played so much of it in the amateur game, you know how to play it. The yardage book means very little this week and I think only experience can really help you through that. I see no reason why I shouldn't do well here."