The Open: Lloyd Saltman happy to break 80 after hitting first two drives OB
Lloyd Saltman was relieved just to break 80 after suffering the worst possible start to his Open campaign.
Last Updated: 18/07/13 4:50pm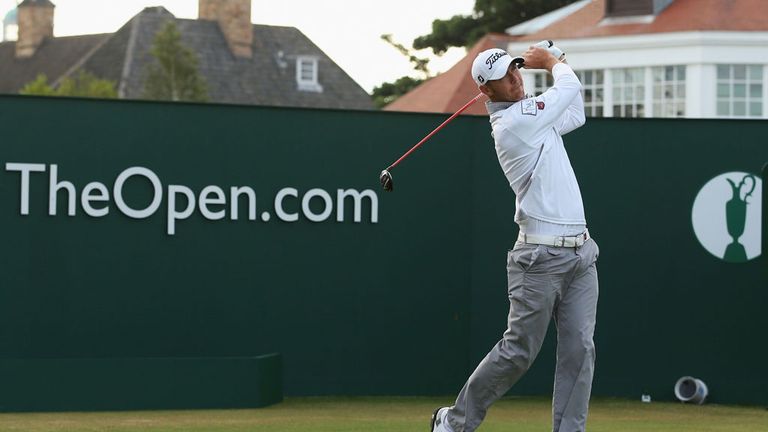 The Scot, playing in the first group out with Peter Senior and Oliver Fisher, carved his first two tee shots into the hospitality area to the right of the fairway.
The 27-year-old Scot managed to get his third ball in play, but after finding the green and two putting he signed for a horrible quadruple-bogey eight.
The 2005 leading amateur recovered with birdies at the third and fourth, but he dropped four shots in a row from the seventh and two further bogeys coming in added up to an eight-over 79.
"I knew it was going to be a battle from the start," said Saltman. "You can't miss it big here, you have to get it in play and I didn't do that today.
"After that it was keep going down or try to fight back. I am not pleased with the score but I am always pleased with the way I try and play; I'm never going to give up and I am happy to break 80."
Asked if he had ever hit his first two shots out of bounds before, Saltman added: "No, but it's not the first time I've hit three tee shots on the same hole in the Open.
"I hit three on the 17th tee at St Andrews (in 2005) but thankfully found the first one."
Aussie veteran Senior had struck the opening blow of the 142nd Open Championship, and he admitted afterwards he had less than an hour's sleep becuase of jet lag.
The 53-year-old got the tournament under way at 6:32am and completed a creditable three-over 74 before revealing how his hectic schedule had caught up with him.
"I only went to sleep at 3:33," he said. "It was hard to get to sleep with the jet-lag. I played the US Senior Open last week and had a hard time getting out of there.
"I had to fly to Chicago on Monday, then to London and then here. I got here Tuesday and played a practice round on Wednesday. I was pretty happy with how I hit the ball but I putted awful, the worst I have putted all year.
"I feel pretty good but come the middle of the afternoon I think I will crash. There will be a lot more sleep tonight."