The Open: Tiger Woods back from injury with opening 69 at Muirfield
Tiger Woods was delighted with a first-round 69 at the Open in the brutal afternoon conditions at Muirfield.
Last Updated: 19/07/13 12:12pm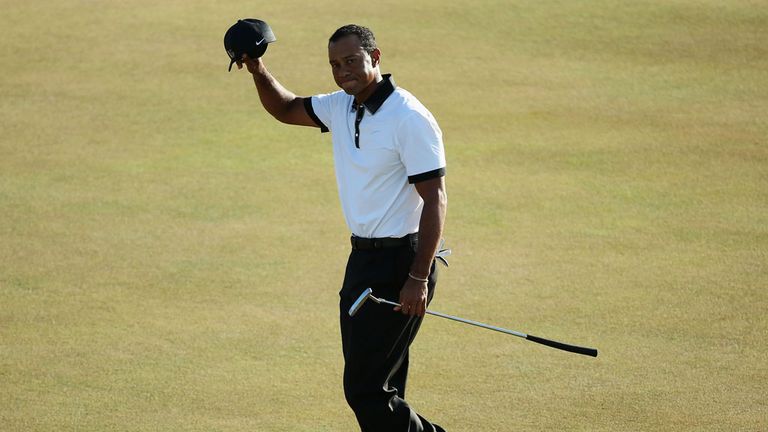 Amid complaints from several players over the speed of the baked greens at the East Lothian links, Woods was in vintage form with the putter as he closed just three off the lead on two under par.
His was undone by the pace of the 14th green, stroking his ball off the putting surface to run up his only bogey of the back nine, but he got back on track with a birdie at 17 before holing another clutch par putt at the last.
It represented an excellent day's work for the world No 1, who went into the tournament having not played since the US Open due to a troublesome elbow injury.
Fears over his form and fitness intensified when pulled his opening tee shot into an unplayable lie, but he did well to salvage a bogey and he enjoyed a sparkling run after turning in 37 as he picked up three shots in four holes.
"When I got over that first tee shot I thought 'If I hammer it, this three-wood is in that bunker so maybe I should take something off it. Maybe I should hit five-wood?'," he said.
"Hence I hit a flip-hook left, took an unplayable, hit the shot where I wanted to, hit it right of the hole and I got up and down from the sand.
Tough>/h4>
"It was tough. The golf course progressively got more dried out and more difficult as we played and I'm very pleased to shoot anything even par or better.
"It was so hard to get the ball close, even lag putt and try to get the ball the right speed. I could see how guys were complaining about it. If there's more moisture on the greens then that's fine but as the golf course dried out it got quick.
"I putted the ball off the green and it really wasn't that bad a putt - anything that goes four feet by it's gone."
Woods won the last of his three Opens at Hoylake in 2006 in similar conditions, but he played down comparisons with Muirfield.
"They're so different," he added. "It's about as fast as Hoylake was but there's knee-high rough here and plus this golf course changes direction a lot.
"There are a lot of different shaped shots you have to hit. Hoylake was pretty simple in that regard. It didn't blow as much there and our scores reflected it. This is a totally different set-up."
Woods was also pleased that he suffered no reaction to his elbow problem, justifying his four-week lay-off since his disappointing performance at Merion.
"The elbow held up great. That's one of the reasons I took the break to make sure that was good," he said. "I knew the ground was going to be hard over here. I've taken three and four weeks off and come back and played well."