The Open: Thongchai Jaidee was not expecting to make the cut at Muirfield
Thongchai Jaidee was convinced he was heading for an early exit from the Open after a battling second-day 71.
Last Updated: 19/07/13 8:43pm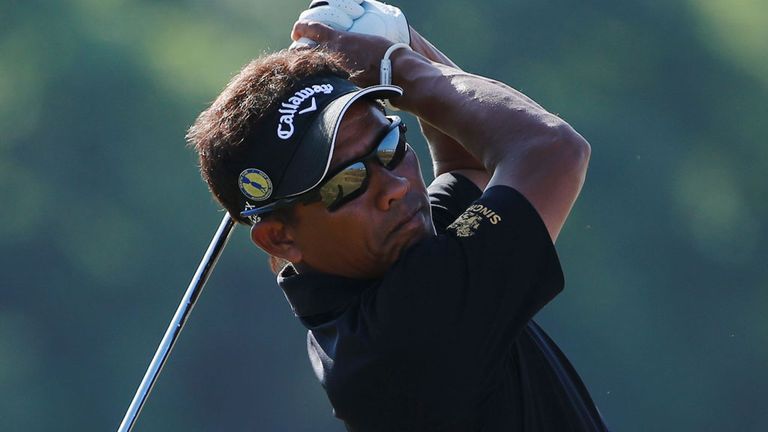 The Thai veteran revealed he was looking forward to returning to his homeland before starting his preparations for next month's PGA Championship at Oak Hill in New York.
But as scores again soared among the later starters at Muirfield, Jaidee learned that his eight-over score was just good enough to make it into the field for the weekend.
After completing a solid second round, the three-time Asian Order of Merit champion reflected on first-day triple-bogeys at the ninth and 13th, where his tee-shots both found plugged lies in bunkers.
"I'll go back to Thailand for two weeks and then I'll turn my attention on the PGA Championship," he said, unaware that the halfway cut mark would climb by four shots by the end of the day.
"I only had two bad holes on Thursday. The wind direction was different so I did well to manage my game. It is tough when you are in the bunkers and I didn't find any bunkers today. I made a few bogeys from the fairways but it was still a good effort.
"It was a special week for me. I enjoyed my golf game and the tournament. I didn't lose anything because I gave it my best."
But Jaidee's compatriot Thaworn Wiratchant will definitely have the weekend off after adding a 77 to his opening 79 to finish towards the bottom of the field on 14 over par.
Conditions
"My tee shots were bad. I have nothing to complain about. I'm going home tonight and I'll work on my game. The conditions this week were good so I'm quite disappointed I didn't play well," he said.
But former PGA champion YE Yang scraped into the field for the final two rounds after hitting back from his first-day 78 with a well-crafted one-under 70.
The South Korean slipped to eight over with a bogey at the first, but he responded with four birdies over the next six holes before an inward 37 left him on six over.
"It is a privilege to play in any major tournament but it is different and rare for Asians to play links golf," said Yang. "You don't really play in all four rounds with this amount of wind.
"But any Asian who is aspiring to be a great player should always welcome the opportunity."