Tiger Woods' niece Cheyenne eyes spot in Ricoh Women's British Open at St Andrews
Cheyenne Woods hopes to follow in the footsteps of her famous uncle Tiger by shining on the Old Course at St Andrews.
Last Updated: 25/07/13 1:40pm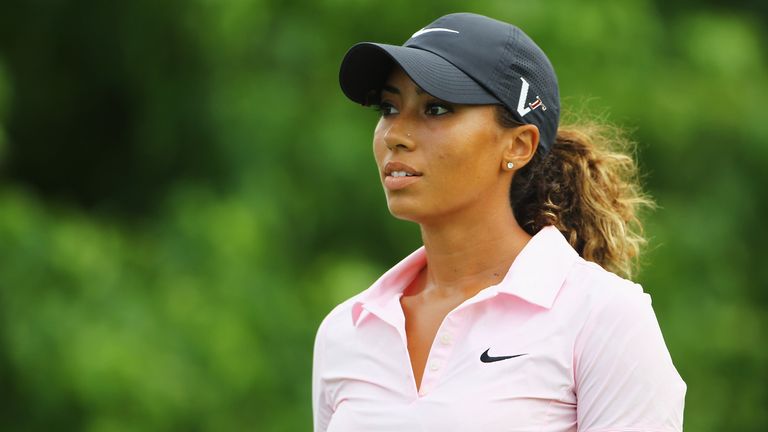 The 23-year-old is in Buckinghamshire for the European Masters and hopes she secures a high enough finish to qualify for next week's Ricoh Women's British Open which returns to the 'home of golf' for the first time since Lorena Ochoa won there in 2007.
Tiger has won two of his Open titles at St Andrews so Cheyenne hopes it proves a good omen.
"Tiger's had a lot of success out there so I'd be honoured to even compete on the course and also to play with the LPGA players, so hopefully I will be out there and have as much success as Tiger. That would be awesome," said the 23-year-old American.
Cheyenne admits that having the surname Woods has had a very positive impact on her career so far.
"It's definitely been a help. I've been given a lot of opportunities I wouldn't have been given otherwise so I'm thankful to have the name and it's fun to come out here and people already know who you are.
"Tiger's a great person to look up to, also.
Very supportive
"He's always been very supportive. Growing up I would always watch him play on TV and he's always keeping up with what I'm doing so it's great to know that he's watching me play.
"I always have him on my phone if I need him. He's the only other person in my family that actually plays golf so he's the best person I could go to if I ever need advice on anything.
"So hopefully I'll be playing at St Andrews next week and I'll try and reach out to him for a tip or two!"
Woods is playing her first season on the Ladies European Tour this season and is currently 51st on the Order of Merit after five finishes of 33rd or better in eight starts. Her best was a tied 12th in the Lalla Meryem Cup in Morocco.
"It's been different. Travelling here in Europe for the very first time in my life, it's been a great experience. Now this is my career, it's something I've always wanted to do so to be able to play professionally is really exciting now and I'm definitely enjoying it here on the Ladies European Tour."
Should she fail to get in via a good performance in Buckinghamshire, Woods will take part in final qualifying at Kingsbarns Golf Club on 29 July.