Laura Davies determined to book automatic spot on European Solheim Cup team
It's crunch time for Laura Davies with just two weeks left to qualify for August's Solheim Cup in Colorado.
Last Updated: 25/07/13 6:01pm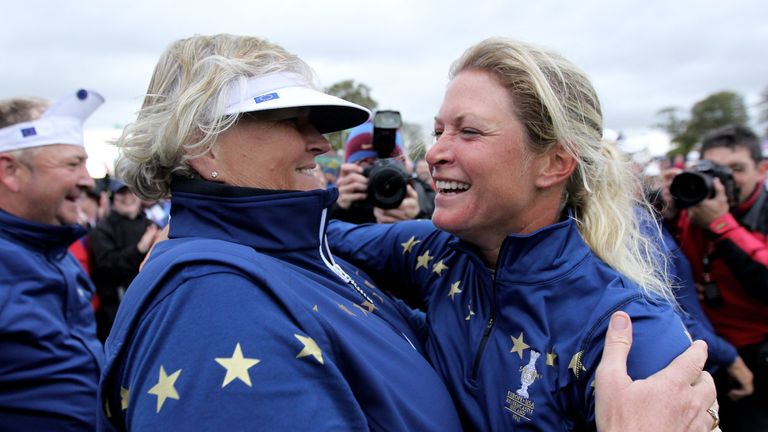 The 49-year-old, who has played in all 12 editions of the tournament since it started in 1990, is determined to qualify for the European team.
Victory will be the only thing on her mind when she tees up in the ISPS HANDA Ladies European Masters at Buckinghamshire Golf Club from Friday.
It is the penultimate qualifying tournament before next week's Ricoh Women's British Open, when both the European and United States teams will be announced jointly on the evening of Sunday, 4 August.
With the European team comprising the top four from the Ladies European Tour standings, followed by the next top four from the Rolex World Rankings and four wild cards, this week's tournament represents an opportunity to earn up to 40 Cup points.
Davies is currently 21st on the points list, 66.5 points behind fourth ranked Caroline Masson of Germany. Suzann Pettersen, Carlota Ciganda and Catriona Matthew are the other three players in the top four.
"There are two more weeks. I'm well down the list. I need to have two more big weeks, whether it gets me in on automatic points, I'd have to win one probably and top three in the other one," said Davies, who is hoping to impress European Captain Liselotte Neumann.
"I'm hoping I can do that, or just to show a bit form to the captain. There might be one pick left that's she's umming and ahhing about. I think the team pretty much sets up. A lot of people agree about who's definitely in. There might be one spot left up for grabs and maybe if someone has a strong finish these two weeks they might get the captain's attention."
Davies, the event's all-time points' scorer, says the fact that she hasn't got enough points makes her even more determined.
There on merit
"You want to be there on merit. You don't want to be a captain's pick. It means you haven't done enough for two years to warrant that automatic spot, but then again the picks are there for a reason and sometimes you want something different.
"Sometimes it's a new player, sometimes it might be bringing in an experienced player. You want to get the points but its tough. Its a two year qualifying process and unfortunately for me and a lot of other players we haven't done enough yet.
"It's everything, really. I've played in 12 and 1990 was the first one. That's a long time to be playing in an event and all of a sudden you're not good enough to play in it. It's going to be disappointing but that day will come soon, hopefully not in the next two weeks.
"Hopefully I'll do enough because it is quite simply, the most fun you'll have on tour."