Tiger Woods unfazed about prospect of shooting 59 at WGC-Bridgestone Invitational
Tiger Woods insisted he had not been overly-concerned about the prospect of shooting a magical 59.
Last Updated: 04/08/13 8:10am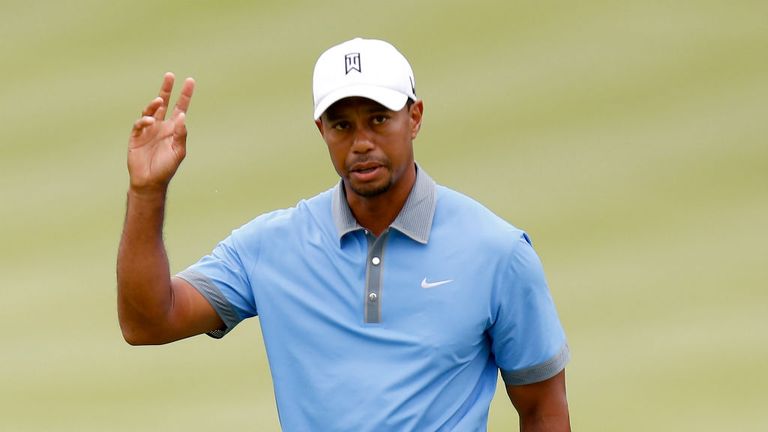 Woods' nine-under-par round equalled his best-ever score on the PGA Tour and saw him open up a commanding seven-stroke lead in Ohio as he bids to win the tournament for a staggering eighth time.
Having got himself nine-under for his round through 13 holes on Friday, there was genuine excitement that he might break the 60 barrier, but the man himself remained unfazed.
Asked about the prospect of shooting 59, Woods said: "I certainly could have done it, I've done it before (in practice at his home course of Isleworth).
"I felt pretty relaxed with it. If I hadn't shot 59 before it would have been a different story. I was only nine-under, so it's not a feeling that I'm uncomfortable with.
"When I shot 59 I was 13 deep at the time, so that's well off where I was today. Nine, I've been there many times, and I've been 10 and 11 before, too. I had five holes to go, still a lot of golf to be played, and anything could have happened. It could have gone either way."
Unflappable
Indeed, a typically unflappable Woods went on to insist that his brilliant round would probably not even register in the top 10 of his career.
"Top 10 rounds? I don't know about that," he continued. "It's up there; how about that? Certainly it's up there, but I don't know about top 10."
Woods, who equalled the course record at Firestone which he had previously tied in the second round in 2000, cited his four rounds in the 2000 US Open and three more at the 1997 Masters, where he clinched his first major title.
"So we're at seven (better rounds) right there," he smiled. "I felt I was in total control of my game today.
"Obviously things like that don't happen every day, and it's fun when it all comes together and I was able to take advantage of it, especially on a golf course like this.
"And the fact that I was able to shoot what I shot today, I'm very proud of that."