Ryder Cup Europe announce five-man panel to choose next captain of team
Ryder Cup Europe has announced plans to change the way the captain is chosen for the biennial matches against the USA.
Last Updated: 10/03/14 11:50am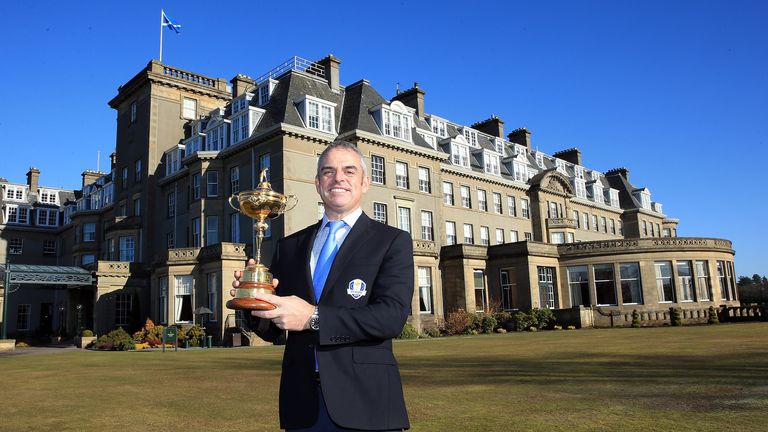 Since 1999 the skipper has been nominated by the 15-strong European Tour's Tournament Committee and ratified by the Ryder Cup Board.
However, after Paul McGinley leads the team at Gleneagles next year, a five-man select panel will choose their man to take on the Americans at Hazeltine National, Minnesota, in 2016.
The committee, led by chairman Thomas Bjorn, took the decision to revamp the process at their last meeting, held during the recent Aberdeen Asset Management Scottish Open at Castle Stuart.
The panel will comprise the three previous Ryder Cup captains, the chief executive of the European Tour, and one representative from the Tournament Committee, to be nominated beforehand by the committee itself.
It also means that the timing and venue of the announcement for the 2016 captain will be determined by Ryder Cup Europe and announced in the early part of 2015.
Europe's Ryder Cup director Richard Hills said: "This decision has come after a series of tournament committee meetings.
Change
"After much reflection it was felt this change would see the most suitable candidate being invited to follow on from Paul McGinley at Hazeltine.
"The job of Ryder Cup captain is an ever expanding and ever demanding role, and I think this decision perfectly focuses the three vital ingredients required in any selection process.
"The immediate experience of the three past captains brings six years of vital knowledge to the table.
"The office of the chief executive of the European Tour outlines the wide-ranging political and practical requirements and the tournament committee representative will, having canvassed his colleagues on tour, bring the feelings and wishes of the players to the discussion."
Sandy Jones, chief executive of the Professional Golfers' Association, said: "We believe the new process to select Europe's captain is the best way forward.
"The Ryder Cup continues to grow and evolve and we hope this new process will enable the European team to continue the success they have enjoyed in recent years."
Prior to 1999 the European Ryder Cup captain was chosen by the Ryder Cup Committee.