Tour Championship: Jordan Spieth looks to sign off memorable rookie year in style
Rising star Jordan Spieth admits he's yet to fully take in what he's achieved so far during a memorable rookie year.
Last Updated: 18/09/13 5:15pm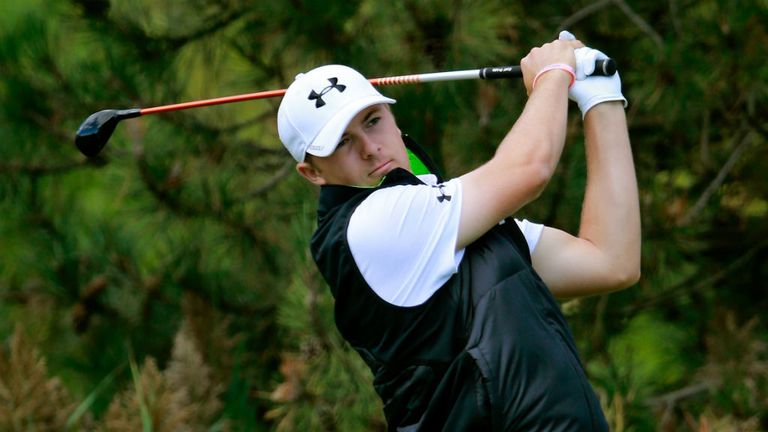 That would probably change this week, though, if Spieth caps a remarkable rookie year by walking off with the $10 million FedEx Cup jackpot - and the way he's playing you would not put it past him.
Twice the US Junior Amateur champion - the only multiple winner along with Tiger Woods - Spieth started the year competing on the Web.com Tour with the goal of securing full-time PGA Tour playing privileges for 2014.
Some eight months later he has eight top-10s to his credit, including a maiden PGA Tour title, and, such has been the stunning nature of his form, has earned one of the two wildcard picks for Fred Couples' US Presidents Cup team.
Impressive enough, but when you consider he was preferred to the likes of Dustin Johnson, Jim Furyk, Rickie Fowler and Bubba Watson - and had Phil Mickelson as his chief cheerleader for selection - it becomes apparent just why Spieth is being hailed as America's next great golfing hope.
The youngster heads to this week's Tour Championship in 13th place in the FedEx Cup play-off standings and would take a lot of stopping if he could register his second win of the campaign.
"I'm very excited," he told reporters at East Lake Golf Club. "I know kind of what I would have to do to win the FedExCup. I just have to win, and I know what maybe other people have to do too.
Awesome
"It's pretty awesome. I didn't think it would be a possibility this year at the beginning of the year, but now that I'm here, it's time to maybe make dig in and make something special happen."
Spieth - who burst on to the scene by finishing tied 16th at the Byron Nelson Classic as a 16-year-old amateur - continued: "At the beginning of the season, my main goal was to earn my PGA Tour card for the 2014 season.
"But it turned out better than I could have expected, and I was able to play the PGA Tour this season. With the win, I have job security for a couple of years, and I guess I'm moving up the world ranking.
"I don't think the year has sunk in. I don't think it should until after the Presidents Cup and I have some off-season. But it's been an incredible year. I've been here and there, in Thursday qualifiers to start the year to making the Tour Championship and the Presidents Cup."
Asked whether the mental and physical strain of such a momentous year could catch up with him in the next few weeks, Spieth added: "No, I don't think so. I think each week there's been a little more adrenaline that comes up from different scenarios.
"I mean, obviously last week waiting on the Presidents Cup, getting announced to join that team, kind of gives me a new push, I guess, to play my best golf the next four weeks, and after that I can rest.
"Yeah, it has been a lot of golf. It's been more than twice as much as I've ever played. In that sense I am mentally a little drained, but when I step on the first tee, that's not the case."