Tour Championship: Henrik Stenson says hard work has paid off this year
Henrik Stenson says victory in Sunday's Tour Championship was a reward for his persistence in the face of adversity.
Last Updated: 23/09/13 2:58pm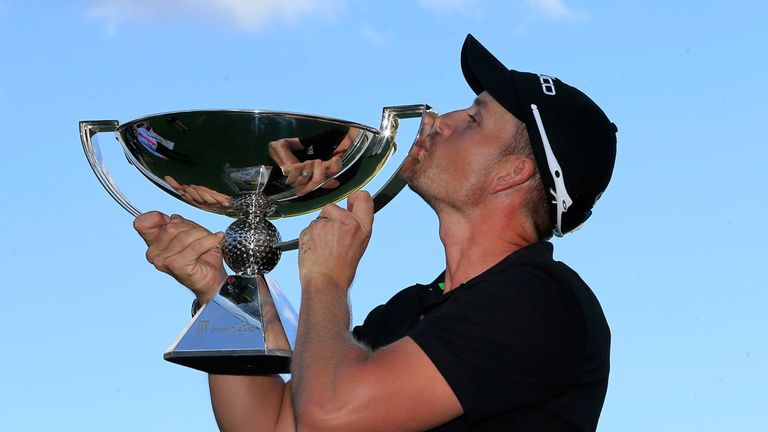 Twice in his career, the 37-year-old Swede has endured dismal runs of form which have resulted in him sliding a long way down the world rankings.
But he has been in the form of his life over the last few months and Sunday's win earned him the Fedex Cup title, the bonus pay-out of $10m which accompanies it, and lifted him to fourth in the world.
Stenson said: "This shows that I never give up.
"It's been a lot of hard work and a couple of changes. I went back to my old sports psychologist last summer and put more of a long-term plan in place for all the different areas of the game.
"It's been some good work there that's starting to pay off big time. It wasn't like you wake up in the middle of July and you start playing fantastic. I put the work in during the spring.
"Since the Scottish Open, it's just been an incredible run (two victories, a runner-up finish at the British Open and third place at the PGA Championship).
"It just shows one should never give up and always keep on trying harder.
"I managed to come back out of some bad slumps twice and that just shows that if you always hang in there and try your best, good things will come your way eventually.
Incredible
"It hasn't quite sunk in yet. I had to fight hard mentally to keep all this aside and go out there and do my job and I managed to do that. This is going to feel better and better as the week moves on, I am pretty sure about that."
Stenson will now have a four-week break before he tries to complete an amazing double by winning the European Tour's Race to Dubai (money list) title.
He currently leads the way and said: "That's obviously next on the horizon.
"Thankfully, I've got a whole month now where I can rest and enjoy this incredible run that I've had.
"Then I have some time to get some good practice before I head out to the BMW tournament in Shanghai on the 19th of October. I'm in a great position for winning the money title in Europe.
"Again, it's going to take some good play, but I'm going to try my hardest to accomplish that."