Ryder Cup: Paul McGinley says the likes of Thomas Bjorn could make the Ryder Cup team
Ryder Cup captain Paul McGinley says players on the European Tour will have every chance of earning a place in his team.
Last Updated: 23/09/13 8:24pm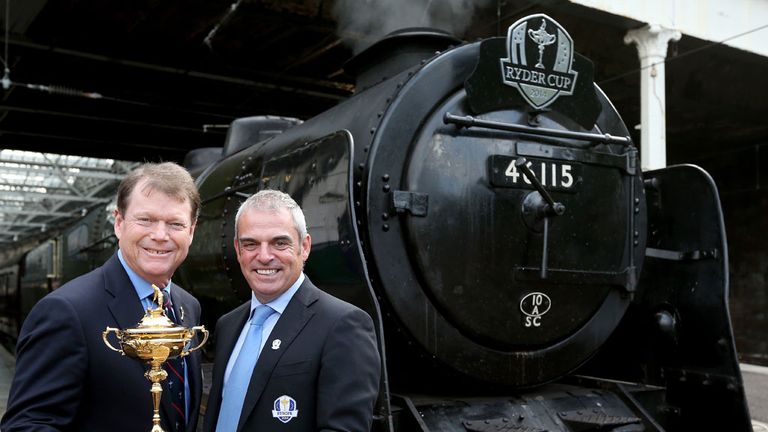 And McGinley said players such as Thomas Bjorn, who have missed recent versions of the event, could well play their way back into the side.
McGinley was speaking a year and a day from the start of the 2014 Ryder Cup, as he travelled up to Edinburgh on the Ryder Cup Express steam train.
The Irishman will have three captain's picks to make next year and said: "I'm hoping it's going to help me, that's why I went from two to three.
"Considering so many guys are playing in so many parts of the world, it's important that I have that flexibility, should I need it.
"I'm going to be in America quite a bit next year but I'll also be playing a full European schedule so I'll see a lot of the players there. I'm going to be watching the guys playing on the European Tour very closely.
"If someone shows a lot of form on the European Tour going into the Ryder Cup, even if they're not in the top 50 in the world, I'm going to look closely at guys like that and they could possibly be a pick."
Bjorn played for winning Ryder Cup teams in 1997 and 2002, and has been in good form of late, winning the Omega European Masters earlier this month.
McGinley said: "Thomas is a wonderful player and the thing is that you don't have to play consecutive Ryder Cups. You can miss one or two, then come back in and play a very good Ryder Cup, which a lot of people have done in the past.
"Thomas is one and there are others too, who may have missed one or two Ryder Cups but are capable of slipping back into the team."
Busy time for McGinley
McGinley also said he is enjoying life as Ryder Cup captain and is expecting a close contest next year.
"When I was appointed initially, I knew it was going to be busy but I thought it might quieten down," he said. "It's actually kept going and it's been a busy time, but very enjoyable too.
"You're always confident, particularly when you have the quality of players we have in Europe at this time.
"But we won the last two Ryder Cups by a point, and the margin between the two teams is very small.
"There's not a big difference between the teams and we know that, if we're going to win next year we're going to have to play extremely well.
"(American captain) Tom Watson is going to add a lot to the American package. He's an iconic figure in the game and a very astute, intelligent man. We're aware of what we're up against."
Asked whether there was any news on possible vice-captains, he added: "Not at this moment in time. I can think of 20 people right away who would be well capable and would do a good job as vice-captain.
"Next year, as the team evolves, I'll start putting a bit of structure around it, so next summer I'll have a better idea."