Ryder Cup 2014: Tom Watson insists the match will be played in 'respectful spirit'
Tom Watson insists the respect between opposing players will ensure the 2014 Ryder Cup is played in the correct spirit.
Last Updated: 24/09/13 5:13pm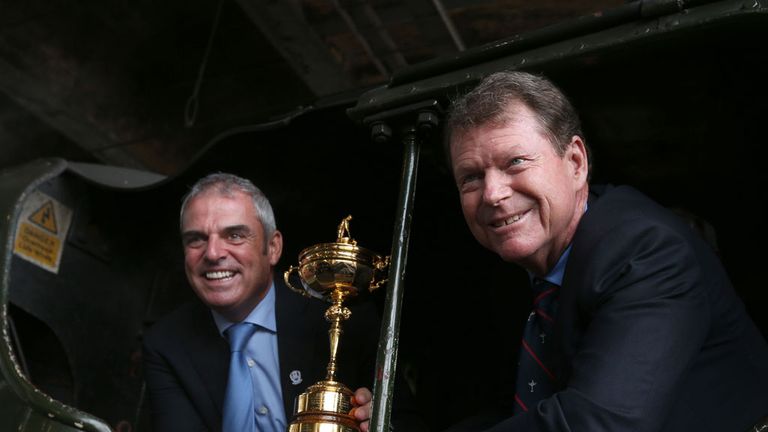 Speaking at Gleneagles to mark one year to the start of the event, the US captain insists he, and Europe counterpart Paul McGinley, will have their sides fired up, but not for a victory at all costs.
"We all know that this is a partizan event, we are on away turf now and obviously Europe will be the favourites," said Watson, who led the US to victory at The Belfry in 1993.
"But the one thing that Paul and I agree on is the manner in which these matches should be played is paramount.
"We all know there will be an edge with Paul in his corner and me in mine as managers trying everything possible to create a winning atmosphere.
"But beyond the matches, the way we will handle it is the most important thing.
"Golf is that type of game. It requires respect. Respect for the person who beats you when you lose and respect for your opponent when you win.
Friends
"The players of today on both sides have been playing against each other for years so they are familiar with each other - they are friends - but when they go in each other's corner they draw the line right there.
"That is what makes this event so wonderful. There is a winner and a loser, but at the end the guys go back and are immediately friends again."
McGinley, who is taking charge of the European side for the first time, joked: "It's been real fun spending time with Tom over the past two days, but I've learned nothing about his team. Although I never really expected to learn anything.
"Having this event at the home of golf makes it very special for both Tom and myself and we want to have the most magnificent golf tournament ever staged next year."