Ryder Cup 2014: Paul McGinley expects Tom Watson's US side to be tough opponents
Paul McGinley believes Tom Watson will prove a formidable barrier to his ambition of retaining the Ryder Cup for Europe.
Last Updated: 24/09/13 3:07pm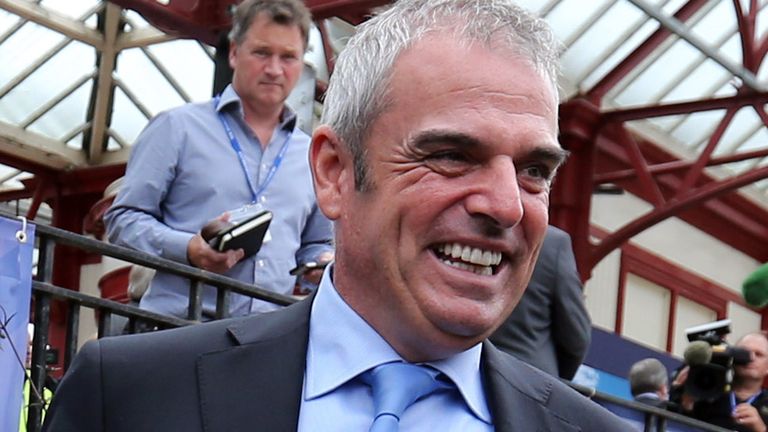 Both captains were part of a ceremony to mark one year to the day to the start of the biennial event at the five-star venue in Perthshire.
While McGinley leads out Europe for the first time, US counterpart Watson has already tasted glory against Bernard Gallacher's side at The Belfry in 1993.
"I am under no illusion that Tom is going to add a huge amount to the American package," he told Sky Sports News.
"He will be a wonderful captain and the American team is going to be a very strong unit and we, as Europeans, are going to have to rise to that challenge.
"It is shaping up to be a real heavyweight contest and I expect the players to go at it from the first round to the last.
"Over the past two days there has been a very cordial atmosphere between both camps, there is a lot of respect between us and that will continue for a long time.
Motivated
"But when the lines are drawn this time next year we'll both be ready. These are two very motivated teams with two very motivated captains.
"However, it is not all about Tom Watson and me. Yes, we make the decisions and put pairings together and make tactics, but there is also a commercial juggernaut behind it as well.
"And also there's a legacy for Scotland, the home of golf, which will include some great opportunities for future generations. That's all part of the equation for captains now."
On his team selection, McGinley, a veteran of three Ryder Cups from 2002 to 2006, refused to be drawn on the make-up of his side.
"I'm not talking too specific about players, although Henrik Stenson looks to be well on his way," he said. "When a player crosses the mark and makes the team, that's when I'll be sounding them out."