Ryder Cup 2014: Paul Lawrie eager to stake his claim for Gleneagles
Paul Lawrie insists it is "impossible" not to be thinking of the Ryder Cup as the one year countdown begins.
Last Updated: 25/09/13 5:15pm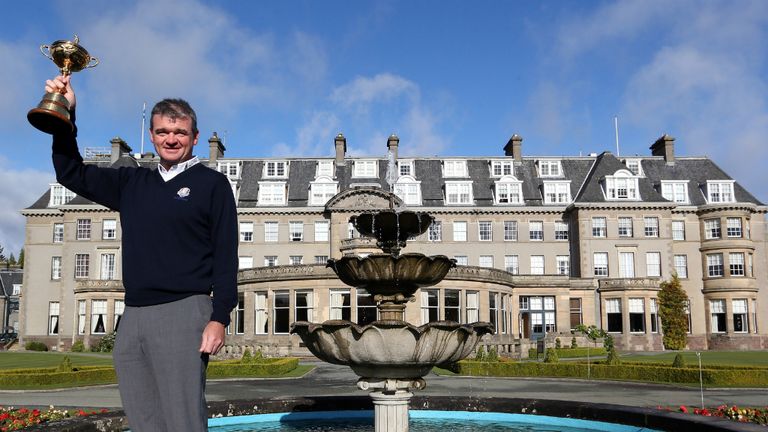 Wednesday marked a year to the day of the opening round when Europe and the United States will lock horns for the 40th time in a bid to win the coveted trophy.
Few can forget the dramatic scenes which unfolded Stateside in 2012 as Europe came from 10-4 to secure victory, prompting the media to hail the 'Miracle at Medinah'.
With anticipation mounting ahead of the event which will take place between September 26-28 next year, Lawrie - who was part of that historic victory last time round - admitted he cannot ignore the hype.
"I think everyone is thinking about it because it is impossible not to," he said. "The media, rightly, talk about it a lot.
"It is a huge event, it is a massive thing that goes on and it is at the back of everyone's mind at the moment.
"But a year is a long time. To get in the team you have to play extremely well. It is unbelievable how well you have got to play in the first place but my job is to play as well as I can this week and make as much money as I can and then go on to the next week and make some more."
Familiar ground
Gleneagles will be the backdrop for the 2014 tournament and with the Perthshire-based PGA Centenary course in mind; Lawrie expects some home favourites will be included.
"Paul has said a few times that he would like more than one Scottish player," he added. "Whenever the Ryder Cup is in your home country you want home players to be involved in it because I think the crowd get a bit more up.
"But the Ryder Cup team has so many nationalities playing in it I think the crowd is going to get behind them whoever is playing."
Lawrie is in fine form having carded a round of 65 in the final round of the Omega European Masters last time out to finish 12th overall; but the 44-year-old remains focused on trying to fulfil his potential on the course.
"I have been playing nicely tee to greens and I putted a lot better in Switzerland and at my own tournament at Deeside last week so I feel quite good," he said.
"But obviously I always try and go in and underplay things rather than overplay them because you never know how you are going to play any day but I am looking forward to it, I am looking forward to trying to hole a couple of putts which is all that's been missing."